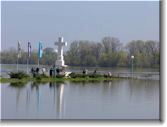 Vukovar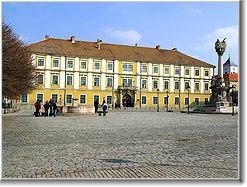 Osijek Tvrda (Fort)

Slavonia is Croatia's "breadbasket", a fertile region that stretches from the Ilova River in the west, over the Sava and Drava basins to the Hungarian border in the north. The southern border touches Bosnia-Hercegovina and the eastern border is with Serbia. The region of Slavonia is divided into two counties: Osijek-Baranjska and Vukovar-Srijem.
At the faultline of former Yugoslavia, it's unsurprising that Slavonia experienced the brunt of the fighting during the "Homeland War" and suffered more damage than any other region in Croatia. The shelling of Vukovar remains an open gash in Croatia's young history.
The land is the most productive in Croatia, yielding wheat, corn, sugar beets, sunflowers, alfalfa and clover as well as oil and gas. In contrast to the rugged Croatian coastline, the terrain is pancake-flat. Croatians like to say that "the highest mountain is a cabbage".
Slavonia retains a strong Hungarian influence, especially in its cuisine, a remnant of the Hungarian aristocrats who descended into the region in the 19th century, building huge baroque and classical mansions around Osijek, Vukovar, Ilok and other towns. Very little remains as much was destroyed in the early 1990s.
Once prosperous Slavonia is still in the process of regaining its economic footing.  Tourism remains minimal in comparison to the coast but is slowly growing. If you visit Slavonia, it really helps to know a little German. In contrast to the Croatian coast where English is widely spoken, you may have to resort to sign language to make yourself understood here.
Destinations in Slavonia
Osijek--It's Slavonia's largest town and the only one with a substantial tourist infrastructure.
Kopacki Rit--As a nature park and one of Europe's largest ornithological reserves, it makes an interesting visit.
Vukovar--Despite substantial reconstruction, Vukovar still is a vivid reminder of the futility of war.