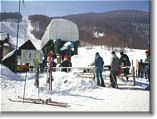 Bjelolasica Ski Resort



Ogulin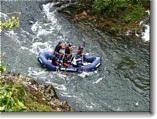 Slunj rafting



Ozalj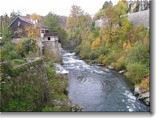 Rastoke (near Slunj)
Travel south from Zagreb and less than an hour later the landscape becomes dreamily rural. This is Karlovacka County. Soon you come to Karlovac, watered by four great rivers that meander through this region. Karlovac is the largest town and administrative capital of Karlovacka and makes a great base to visit the region. The rest of the region is dotted with small villages, that are gradually becoming depopulated as the population migrates to Zagreb.
Karlovacka is at an important crossroads in the Balkans, located between Slovenia and Bosnia-Hercegovina, which has made it a frequent target. It was a bulwark against the Ottoman Turks in the 16th century and suffered badly during the dissolution of Yugoslavia in the early 1990s.
Several towns bear reminders of a more militaristic period including Karlovac which retains a military street plan long after the destruction of the town walls. The town of Ogulin also boasts a fortified castle used by the Frankopans in the 16th century. Ozalj castle is also worth a visit.
If history doesn't tempt you, maybe the outdoor activities on offer will. Rock climbing, mountain biking and spelunking opportunities abound around the mountain of Bjelolasica which becomes a ski resort in the winter. Another pretty spot is Slunj, known as a kind of mini-Plitvice with its own small falls.
And when it's all over, quench your thirst with Karlovacka, one of Croatia's best beers!
Related Pages
Further Resources