Big game fishing in Croatia is less well organised for tourists than fresh-water fishing although there are a few companies that will put together a game fishing trip for you. One of the most popular destinations is the fabulous Kornati Islands National Park.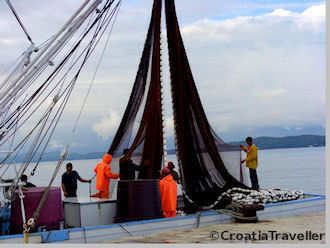 So what can you catch? The Adriatic is known for its tuna fishing, mainly bluefin and albacore. Also available is little tunny, sharks, swordfish, amberjacks and dorados, depending on when you go. In April you can find shoals of tuna. A little later on (late-May to early June) bluesharks and thresher sharks are in season and in August you can fish for bluefin tuna. From then until November is the best season for hauling in a big catch.
Spear-fishing also has a long tradition in Croatia
Related Pages
Fresh-water Fishing Regulations and Prices
Sea Fishing Regulations and Prices
Agencies Selling Fishing Licenses
Further Resources
Ministry of Agriculture, Forestry and Water Management
Croatia Sport Fishing Association
Recommended Tours
More from Croatia Traveller
Questions? Comments?
©CroatiaTraveller 2005-2018 All rights reserved