The unusual cylindrical-shaped Church of St Donat (Sv Donat) is practically Zadar's mascot. Built on remnants of the Roman forum in the 9th century, the church was originally dedicated to the Holy Trinity and only later acquired the name of the bishop who oversaw its construction, Bishop Donatus. So where did the Bishop get the idea for a cylindrical church that seems to combine elements of eastern and western architecture?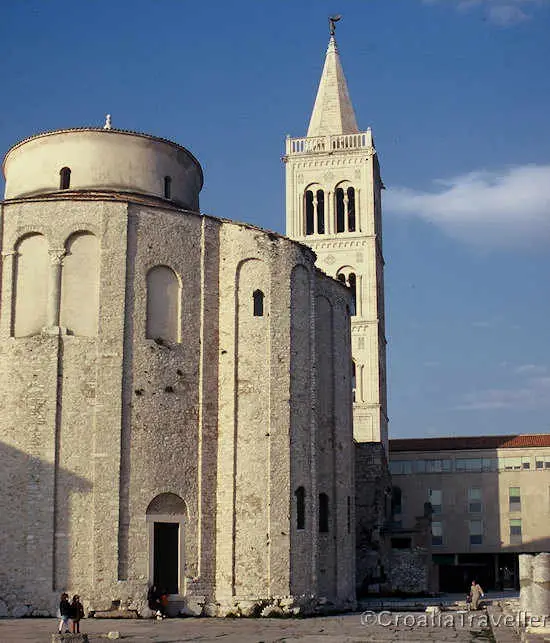 In 805 Bishop Donat travelled to Aachen where he could see the Palatine Chapel which the church somewhat resembles. Another design cousin is the church of San Vitale in nearby Ravenna or even the palatine chapels of Constantinople, where Bishop Donat also carried out a diplomatic mission in 808.
In its present form, the church is structured as a cylinder within a cylinder. The outer wall connects with the inner wall at the first floor which creates a gallery in the inner cylinder. The interior is topped by a conical roof supported by six pilasters and two columns that were part of the original Roman forum. The church is flanked by a narthex to the west and annexes to the north and south (now disappeared). The theme of the Holy Trinity is reflected in the three apses and three doors to the church.
There were several construction stages. As originally conceived, the church was a stand-alone rotunda. The central space was probably composed of eight columns, two of which remained in place before the apses. The lack of access stairs would indicate that there was no first floor. At some point it was extended to become part of the episcopal compound which includes the Archbishop's Palace. Many other changes were made during the church's original construction the meaning and purpose of which are not yet clear.
More recent changes include the reconstruction of the narthex in the 18th century when windows on the first floor were opened and the southern annex was demolished.
St Donat's church has been deconsecrated for centuries. It served as a military storehouse, a wine cellar (!) and an archaeological museum until 1956. Due to its excellent acoustics, it now serves as Zadar's premier venue for concerts and recitals.