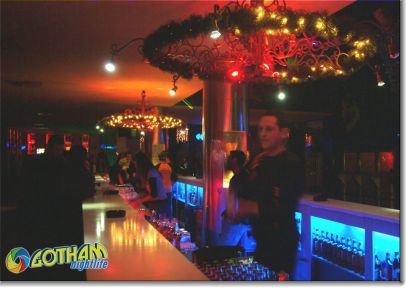 Gotham Bar
Zadar has great nightlife--unpretentious and varied-and the best part is that most Zadar nightlife is located in the town's historic centre. As soon as the winter chill leaves Zadar's streets,  the city's teeming population of students fill outdoor cafes and spill out of its bars. There are a couple of super-hip nightclubs but the biggest disco on the Croatian coast, Saturnus, is about 16km northwest of Zadar in Nin.
Bars
A nest of little streets near the southwestern edge of town (see a map of Zadar) is an open-air meet market most nights of the week. On Stomorica, Varoska, Ljubavca and Miha Klaica there are a profusion of little bars with eclectic music programming. You can easily stumble from Kult to Kantun to Lotus to Toni to Zodiac and beyond.  Head further to the sea and you can bar-hop along Mihovila Pavlinovica where the volume is turned up a notch. Try the trendy In Time, Corso or Brazil.
Nightclubs
This triple threat venue--music, bar, restaurant--stages fashion shows, art exhibits and special events in addition to its concert and music schedule.
The club that put Zadar nightlife on the map, this place is worth a visit to Zadar just to sample it. Opened by two former members of UB40, the club is actually a garden on top of the city walls. Jazz, latin, electronica--you never know what you're going to get.
Gotham
Just north of the Old Town, this club is at once futuristic and kitschy with go-go dancers, a cinema and quirky DJs.
Pubs
Maya Pub
Mellow and vaguely Eastern, this is a relaxing place by day or by night when the music starts up. The music could be exotic and will be unpredictable.