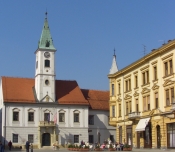 Varazdin Central Square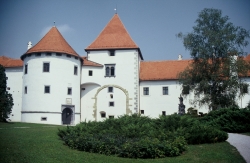 Stari Grad

Once upon a time Varazdin was Croatia's capital (now Zagreb) and it retains an aura of stately seriousness. The baroque buildings in the town centre have been scrupulously scrubbed up and maintained, making it one of Europe's most intact baroque centres (after Prague). In 2014 the New York Times listed Varazdin as one of the 52 Places to Go for the year.
Varazdin Architecture
Its architectural heritage dated from the few wondrous years (from 1756 to 1776) when Varazdin, as a capital city attracted the region's best architects and designers. Notice especially the Patacic Place and Patacic-Puttar Palace in the town centre which dates from this period and the striking Town Hall.
 Varazdin's artsy heritage is also apparent in its Gallery of Old and Modern Masters which displays a nice selection of paintings from Croatia and abroad but for an overview of the town's history, head to the Town Museum located in Varazdin's star attraction-Stari Grad.
  Despite its name, Stari Grad (Old City) was really a defensive fort with sturdy round towers. It held up well when the region was under attack from the Ottoman Turks in the 16th century. Wandering the courtyards, towers and passageways of the castle-fortress provides an evocative look at medieval defensive architecture even without a visit to the museum.
Ready to get bugged? Visit the Entomological Collection (tel 04-265 87 60, Franjevački trg 6, closed Monday) located in the stately Hercer Palace and take in over 4500  exhibits that explain everything you ever wanted to know about insects.
Varazdin Festivals
Varazdin is now a thriving commercial centre for the north of Croatia but its business spirit is considerably lightened in time for the Varazdin Baroque Evenings which take place over three to four weeks each September. If baroque music is your thing, you'll find plenty of it in churches and theatres around the city. It's an extremely prestigious event on the Croatian music scene.
Prefer a more modern style? Try the Spancirfest which takes place at the end of August. This fantastic event combines street theatre, exhibitions, concerts, traditional crafts and gastronomy and turns the streets of the Old Town into a seething mass of creativity. There's always a headlining act to enthrall music lovers in the open-air arena under the walls of the Varazdin castle.
Accommodation in Varazdin
Most people come to Varazdin on a day trip from Zagreb but there's no reason not to stay for a night. Forget about private accommodation though; it doesn't exist. The best hotel in town is the four-star Hotel Istra in the center of town. You might also try the three-star Hotel Turist-- a very business-like establishment. A more better alternative is the Pansion Maltar, a small inn in the town centre that offers a familial atmosphere.
Getting to Varazdin
Buses from Zagreb to Varazdin leave about every half hour for a trip that takes less than 2 hours. Trains from Zagreb to Varazdin take a little longer (about 3 hours) and are almost as frequent as buses.
Tourist Information in Varazdin
The Varazdin tourist office (tel 049-210 987) is near Stari Grad at Padovceva 3 but has a limited amount of useful documentation in English.