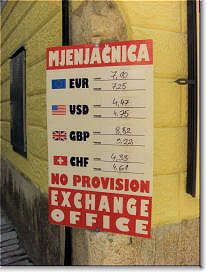 Beat the high cost of travel:
camp!
Camping in Croatia can be the cheapest way to see the country. Generally rates are most reasonable, depending on where you stay and when you go to Croatia. As a rule, you get what you pay for. Four-star campgrounds with state-of-the-art facilities and a beachside location are the most expensive, especially if you need an electricity hook-up. You'll find Istria slightly more expensive than Dalmatia.
Bear in mind that, like Croatia hotels, camping is much more expensive in July and August. If you come outside of the peak season you can get great savings--up to 30% off.
Here are some price ranges for Croatian campgrounds in peak season (camping is priced in euros but you pay in kuna):
Four-stars
Per person: €6-€7.50
Campsite: €10-€18.50
Three-stars
Per person: €6-€7.20
Campsite: €5.70-€15.50
One and Two-stars
Per person: €4.20-€5.10
Campsite: €5.00-€7.50
Recommended Tours
More from Croatia Traveller
Questions? Comments?
©CroatiaTraveller 2005-2018 All rights reserved