The tiny islet of Bisevo is only 5 nautical miles southwest of Komiza on Vis Island. Covering 6 sq km, it would hardly be noticed at all except for its remarkable Blue Grotto (Modra Spilja) or Blue Cave that strongly suggests the famous Grotto of Capri.
Of about ten caves scattered around Bisevo's coast, the Blue Cave is the most outstanding. Although long known to fishermen, the cave has only been accessible to the non-diving public since 1884 when an entrance large enough for a boat was formed by blasting a hole in the rock.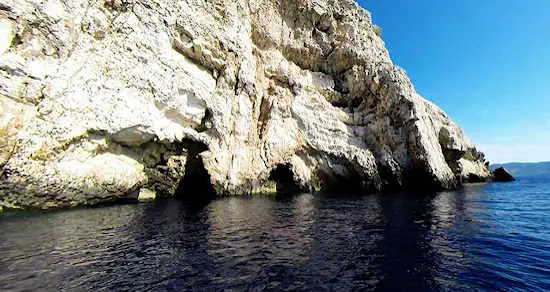 courtesy yacht-rent.hr
Between 11am and 1pm on a sunny calm day, the strongest rays of the sun passing through an underwater opening illuminate the cave with a luminous blue light while objects beneath the surface shimmer in silver and pink. The effect is eerie and unearthly especially if you're lucky enough to see it when the cave is uncrowded which it certainly won't be if you come in July and August.
In fact, the Blue Cave has become a victim of serious overcrowding in the summer. The words "tourist trap" spring to mind on summer days when thousands of visitors wait in lines of up to three hours to spend about five minutes in the cave. I recommend against visiting in high season at all but if you must come, make sure to get there as early as possible and definitely no later than 10am. The cave will be less radiant but still beautiful and much calmer.
Visiting the Blue Cave
Take a tour
The simplest way to visit is to check out a tour to the Blue Grotto which can be arranged from Split and Hvar if you're not staying in Vis.
Getting There Independently
The system in place involves a boat to Mezuporat, a small cove and harbour on Bisevo island, whereupon you purchase a numbered ticket and wait for a small boat to take you into the cave. Although there is a small passenger ferry that connects Komiza with Mezuporat and other ports on Bisevo, it's mainly for the benefit of workers and islanders. The best option is to book a boat transfer from an agency in Komiza. There are small, fast boats that whisk you out in 15 minutes or slower large boats that take 30 minutes.
Although a short distance, the waters between Komiza and Bisevo are subject to unpredictable winds and tides. The crossing can be choppy which is why there are no advance bookings. Those inclined to sea-sickness are advised to take a fast boat rather than a ferry.
Another good option is to combine a visit to the Blue Cave with stops at other places on Bisevo island such as the Green Cave (below) and Porat which is known for its beach. One highly recommended operator is Ames Trips, based in Komiza.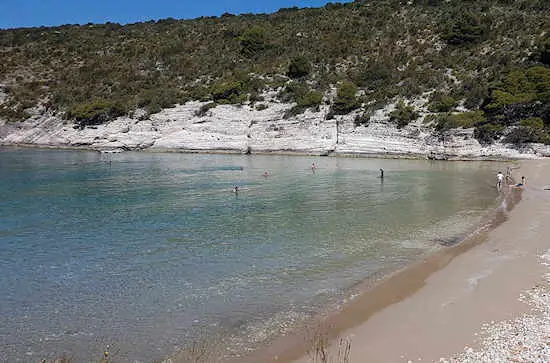 Porat--courtesy Ames Trips
There are also agencies that run regular excursions to the cave from Split, Hvar and Trogir, sometimes combined with a visit to other islands. Click here for the full menu of tours to Bisevo.
For a more private experience, motor out yourself. You cannot take a private boat into the Blue Cave but you can dock at Mezuporat and line up for one of the official boats to the cave. In high season, moorings fill up quickly and you'll need to anchor offshore. After the visit you can boat around the tiny island and stop to bathe in hidden coves. Take a fishing rod because the waters are teeming with fish!
Ticket Prices
Prices to enter the Blue Cave are €13/8 adult/child July-August, less off-season. The admission ticket is included in the price of any organised tour.
In Mezuporat


courtesy tourist office Komiza
As the tickets are numbered, it's possible to wait in the shade until your number is called to board the small boat to enter the cave. It sounds more organized than it is as staff can be easily overwhelmed by the crowds. There are toilets, a bar and snack shop. It's wise to bring a bottle of water to avoid more lines and inflated prices.
In the Cave
Visits are limited to an official maximum of 15 minutes but in practice visits are much shorter, sometimes as little as five minutes. There is no swimming in the cave. Currently, there is no limit to the number of boats in the cave which means that the cave can be bumper-to-bumper with boats in the summer.
Other Sights
Although clearly the most outstanding sight, the Blue Grotto is one of several points of interest on Bisevo. If you have your own boat you can explore about nine other caves scattered around the coast. One highlight is the Green Cave which does allow swimming.
Originally populated by Benedictine monks, the island still houses the 11th-century Benedictine Church of St Silvester. And there are some wonderful swimming coves tucked away along the sea, some of which are sandy.
Accommodation on Bisevo Island
There are no hotels in Bisevo but there are a few apartments in Porat which is a 45-minute walk from Mezuporat. Try the basic and simple Apartments Porat Bisevo. Otherwise, the best option is to stay in Komiza.