Croatia has very few sand beaches. Forget about long barefoot walks on the beach with sand slipping between your toes! From Dubrovnik to Istria, Croatian beaches run the gamut from gravel to pebbles to rocks.
[See the best Croatian beaches]
The bright side of pebble beaches is no sand creeping into bathing suits or turning sandwiches gritty. The down side is felt on the soles of your feet.
But all can be solved with proper footwear. Water shoes are essential! By "water shoes" I mean plastic or rubber-soled shoes that fit snugly around your feet and allow you to swim comfortably.
Proper well-fitted water shoes can transform your beach experience. You can prance in and out of water comfortably and be protected from the sea urchins that are common on the Croatian coast.
Yes, they are on sale in Croatia in any beach town but it's worth buying them ahead of time to get the right size and the best quality for the price. As in so many matters, you get what you pay for.
How to choose the right water shoes?
Size
It's important that the shoes are snug on the feet to avoid gravel or pebbles straying into the interior and to have a smooth swim. I recommend buying a water shoe at least a size smaller than your usual shoe size.
Construction
I would avoid shoes that close with Velcro as they tend to deteriorate quickly. You'll want the shoes to be lightweight enough to swim easily but with enough bottom padding to protect your feet.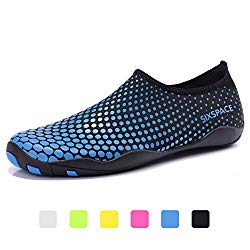 This shoe from SixSpace does the job nicely. It's lightweight, sturdy, a snug fit and comes in a variety of beachy colors.
Buy from Amazon UK
Buy from Amazon.com
https://amzn.to/2EkjvRi This Speedo water shoe is a personal favorite. I've had mine for several years and it's as good as new. There's enough padding on the bottom and it runs wide which makes it comfortable on my feet.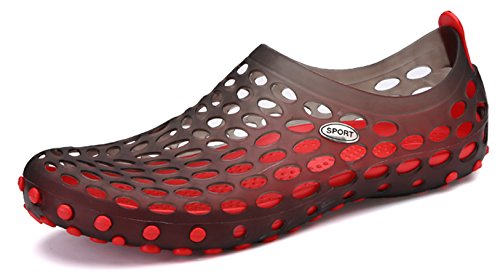 Katliu breathable beach shoes also have a sturdy bottom for protection.
See more watershoes on