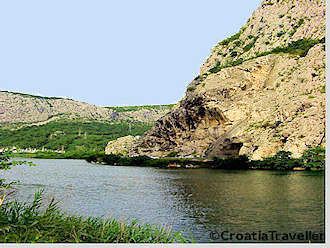 View Croatia in a larger map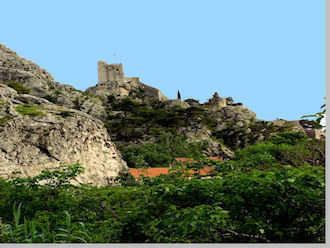 Venetian Fort
Only 26km southeast of Split, Omis (pronounced Omish)is an easy day trip from Split and makes a good alternative place to stay in the Split region. Located at the mouth of the Cetina river and right on the coast, Omis is a popular rafting destination and there are sandy beaches stretching from Dugi Rat in the west to Ravnice in the east. A 700m wide shallow stretches west of Omis, created by the drifts of the Cetina river. There are also a number of coves between Ravnice and Vrulja with pebble beaches. (See Omis on a map)
Omis is a small, old fortified town, built originally at the foot of the rugged and steep cliffs of the western spur of the Omiska Dinara mountain. Modern Omis has spilled out of the old walls, spreading to a shallow promontory which the Cetina river has formed on the left bank of its confluence.
The most distinctive feature of Omis are the enormous sheets of rock that loom over the town and river. At one time the rocks helped seclude the pirates that made Omis one of their chief strongholds.
What to See in Omis
Sights to see in Omis include a ruined Venetian fortress on the hill over the town and a 17th century parish church in the town centre.
History of Omis
The history of Omis is governed by the defensive nature of its topography. The Romans had a settlement here called Oneum but it was first mentioned as a fortified town at the end of the 11th century. It became a pirates' haven in the 12th and 13th centuries with the pirate ships extending their reach from the coast to the islands and beyond. The wealth of the town demanded more walls which were erected toward the end of the 12th century. There was a brief period under Venetian rule in the 13th century before Omis fell into the hands of the Subic princes of Bribir. Bosnian rulers and feudal lords took charge for part of the 15th century before Venice took control and held it until 1787.
Accommodation in Omis
Four-star hotels and apartments in Omis
Hotel Plaza--town centre
Villa Kokolo --seafront apartments
Three-star hotels and apartments in Omis
Villa Mama --apartments in a medieval building
Hotel Villa Dvor
Apartments Tomasovic
Apartments Dada --woodsy surroundings
Hotel Ljetni San-- near the beach
Apartments Agava Mirjana --with sea views
Tourist Settlement Brzet --in a pine forest
Cashtelan Apartments--near the beach
Festivals
Those interested in indigenous music won't want to miss the annual Klapa Festival in Omis. Klapa is a form of harmonic singing that has been practiced in Dalmatia for centuries. It is now on UNESCO's list of Intangible Cultural Heritage. Omis' Klapa Festival is renowned throughout Croatia for the artistry of the Klapa groups. The haunting music is performed over a period of several weeks in July with prizes awarded at the end. See the official site.
[Interested in Croatian music and dance? Find out where to see it]
Getting to Omis
It's easy to get to Omis. There are dozens of buses a day from Split running south that stop at Omis.
Tourist Information in Omis
The Omis tourist office (tel 021-861 350) is at Trg Kneza Miroslava bb.
Recommended Experiences
More from Croatia Traveller
My Favorite Travel Accessories
©CroatiaTraveller 2005-2021 All rights reserved