Solta Island (pronounced sholta) is so close to Split it's practically a suburb of Croatia's Adriatic metropolis-by-the-sea.  Only 19km long and five km wide, this little island is a short ferry ride and an ideal day trip from Split. It's a hilly island with steep shores, mostly on the southern side, and deep bays. With a profusion of sheltered coves, Solta is a popular boat outing from Split. The macchia, herbs and shrubs that carpet the island are perfect beekeeping pastures which is why Solta is famous for its honey.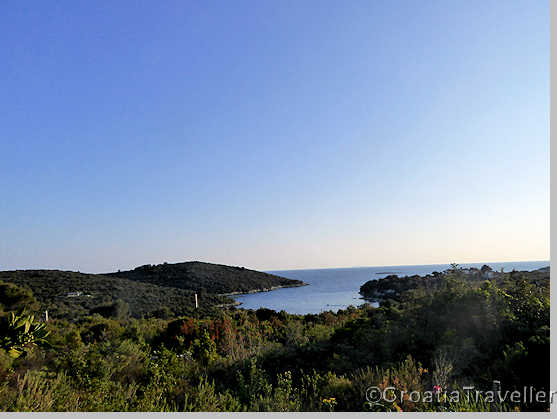 Known by the Greeks as Olyntha, Solta became a summer getaway for the Roman citizens of Salona. Now, the small native population is augmented by Split locals who have built second homes here. Chilling in one of the little villages or hanging out out on one of the beaches is a pleasant break from busy Split.
Tourism is becoming more well-developed in Solta but it is nowhere near as visited as Croatia's main islands. The main activities still revolve around the age-old production of olive oil and honey which makes it ideal for those who want to veer from the standard tourist trail for a glimpse of traditional island life. There's not a huge amount to do off-season though when visitors are few and accommodation is scarce.
Major Villages
Rogac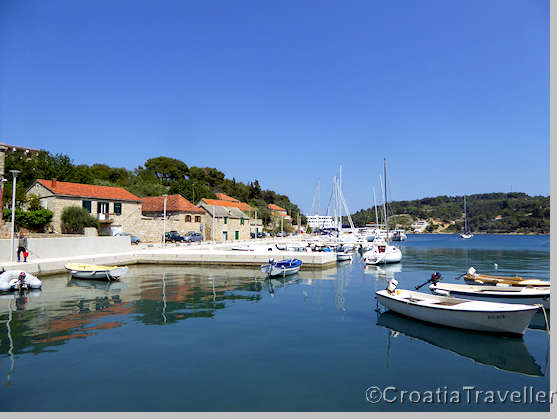 Rogac is the dock for all ferries from Split and thus the first view of Solta that visitors have. There's a small tourist office near the dock, a cafe, Jadrolinija stall and ATM. There's also an excellent restaurant a short walk south around the port. Pasarela serves up the freshest possible fish, pasta and pizza. Dine either indoors or under the shade in a stepped terrace on the edge of the sea. A narrow beach is right nearby.
[Find rooms and apartments in Rogac]
Grohote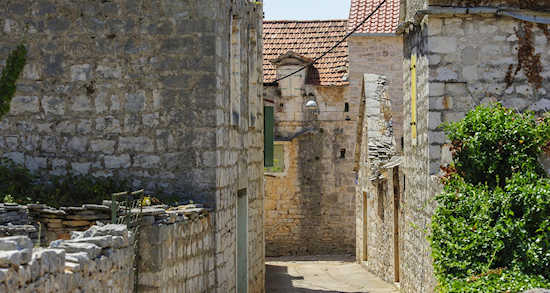 courtesy Solta Tourist Office
Up a steep hill from Rogac lies Grohote, an alluring stone village that is the largest settlement on the island and its administrative center. A network of stone alleys and hidden courtyards weaves around a parish church in a tableau of medieval, Mediterranean charm. There are also more services in Grohote including a market, pharmacy, tourist office and post office. Private accommodation is plentiful.
[Find rooms and apartments in Grohote]
Necujam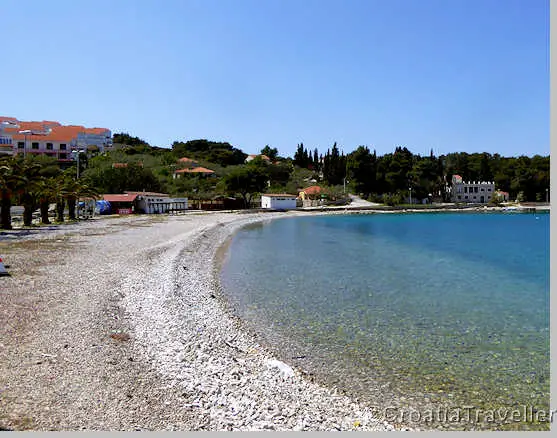 Because of its wide bay, Necujam has been a popular tourist destination for decades. Even the Romans holidayed on Necujam; remains of Roman villas and graves have been found. Naturally the rocky beach is the main attraction and there's even a public swimming pool for gentler bathing. There are four restaurants, a beach bar and even a discotheque to liven up summer evenings. As there are few permanent residents, Necujam is comatose off-season. In summer the beach fills up with visitors staying in the many bayside apartments that have recently been constructed.
[Find rooms and apartments in Necujam]
Maslinica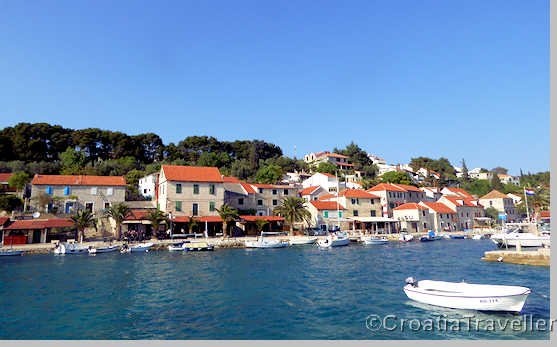 Maslinica has it all--the vibe of a fisherman's village, great beaches, restaurants, services and the island's best hotel. The town center is a smattering of stone houses clustered around a deep bay. Walk west around the cove to a series of small, pebbly beaches and a cafe-bar. Benches face directly west making it a great place to watch the sunset.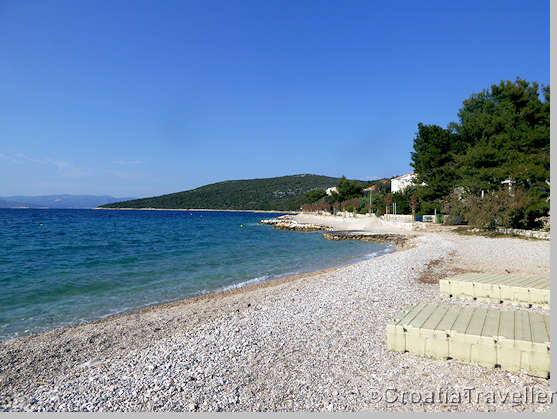 For sunset dining, head to  Restoran Sampjer where you can watch the sky change color from a glassed-in terrace. I can recommend the pasta with truffles and shrimp which was delicious. As the restaurant is on a hill, it's convenient that they offer a free shuttle.
Maslinica is a great place to settle in for a few days. If you do, I recommend the Martinis Marchi Heritage Hotel, a friendly and luxurious five-star hotel right in the town center.
[Find rooms and apartments in Maslinica ]
Stomorska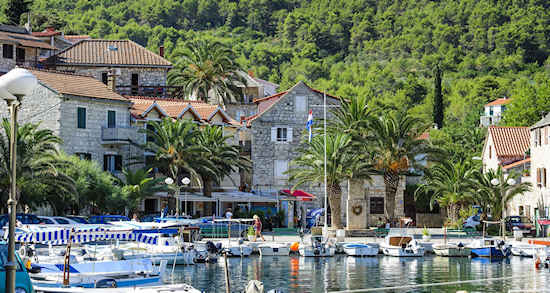 courtesy Solta Tourist Office
Stomorska is the largest and most developed village, centered around a small boat harbour. There are plenty of restaurants, accommodation, a service station, market and a few other businesses. The population of 250 doubles in the summer as the tourists fill rooms and apartments. There are some rocky beaches near the town center but the main thing to do is to enjoy a meal or a cocktail in one of the restaurants or cafés lining the port.
[Find rooms and apartments in Stomorska]
Accommodation on Solta Island
The only hotel is the wonderful Martinis Marchi Heritage Hotel in Maslinica but there is no shortage of rooms and apartments throughout the island. Off-season the selection narrows dramatically with Necujam and Stomorska being the only sure bets. If you'll be doing your own catering, remember that there are markets in Maslinica, Grohote and Stomorska only.
Getting to Solta Island
There are frequent daily car ferries between Split and Rogac that make a day trip easy as well as a passenger boat that connects Rogac with Milna on Brac island. It leaves Rogac early in the morning to bring islanders to work
Getting Around Solta
Transport on the island is organized around the ferries. Buses meet each ferry arrival and make a circuit of all the major villages. About 45 minutes before departure, buses will pick up passengers from the same villages to take them to the ferry. With careful timing, it's possible to visit a couple of villages in a day and return to catch the evening ferry. Ferry schedules are conspicuously posted in each village. To explore the island in depth, it's best to have a car.
Tourist Information
There are small tourist offices in each village that are seasonal only. The official tourist board website has some useful information.
Last Updated: August 16, 2022