Unquestionably Croatia's best cheese, Paski Sir (Pag Cheese) is only made on the island of Pag even though it's on sale nearly everywhere in Croatia. This unusual sheep cheese regularly wins international awards from cheese associations. Sharp and salty (just like the island) you may first find yourself addicted and then wonder how it's done.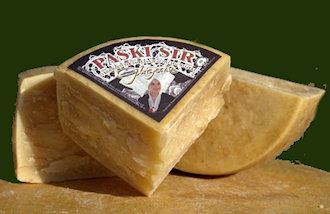 Making Pag Cheese
The sheep's milk is drained and then heated. Add rennet to the warm milk to cause it to ferment. Heat the milk again, stirring continuously. Remove from the heat and let cool. Line a mold with cloth and pour the milk into it. Fold the edges of the cloth over the edges. Place a weight over the milk and let drain for 15 minutes. Turn over the cheese and let drain for 4 hours. Take it out of the mold, remove the cloth an rub seasalt over the cheese. Salt again the following day. Wash and dry the cheese, then allow it to dry completely, turning it every day. When the fermentation is over, spread olive oil over the cheese, place it on a wooden board and remove to a cool, dark place.
The result is a firm cheese that sharpens and hardens with age. Pag cheese is usually served as an starter with black olives but watch out for restaurants that serve a bland Edam to unsuspecting foreigners! Here's how to tell: pick up the slice in the middle. If it flops down on either side, it's not Pag cheese. More mature cheese can be grated and used in place of Parmesan.
Pag Cheese Tours
For an entertaining and informative look at the process of Pag cheese production as well as a tasting, I recommend a Pag island cultural tour with a visit to a cheese factory.
Buying Pag Cheese
Of course Pag cheese is widely available on Pag island! It's a beautiful island and well worth the trip but you can pick up Pag cheese almost everywhere that food is sold in Croatia. I can verify that Pag cheese keeps quite well but if you're buying a hunk to take home, look for a young cheese, not too hard and with a mild taste.