COMPARE TIMETABLES AND BOOK ONLINE
Going from Ancona to Split? The two ferry companies handling the route are SNAV and Jadrolinija. The connection works all year with greater frequency in summer.
Ancona-Split-Ancona 2020 Jadrolinija Ferry Schedules
Duration:10hrs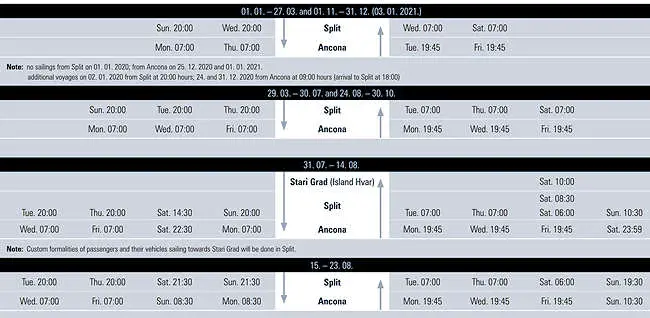 SNAV
From April to October Ancona to Split departs Monday, Wednesday and Friday at 8pm and Saturday at 10pm with additional departures June through August.
The Split to Ancona ferry departs Tuesday, Thursday and Sunday at 8pm and Saturday at 11am with additional departures June through August.
Click here for schedules and online booking.
Booking the Ancona-Split Ferry
There is no substantial difference in on-board services between the various operators. Click here for more on on-board accommodation for Jadrolinija ferries.
As with any international car ferry, I strongly recommend that you book it in advance even if you do not have a car in order to have your choice of accommodation. In order to book the car ferry, follow these easy steps:
1. Select your departure port (Ancona or Split)
2. Select your arrival port (Ancona or Split)
3. Select the month and dates of your departure; Note that there is a 20% reduction on the return portion of a round-trip ticket
4. Select your desired accommodation; Note that some accommodation may not be available on some departures.
5. Choose your vehicle make, model and, if applicable, the plate number. If you do not know the plate number (i.e. for a rental car) simply enter "rental" in the space provided; you can notify the company later when you know the number
6. Follow instructions for paying by credit card and await your email confirmation and ticket which will be emailed to you.
Compare the Ferries
Jadrolinija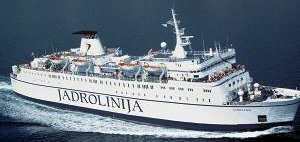 Length: 128.13m
Width: 19.62m
Passenger Capacity: 1100
Vehicle Capacity: 270
Cabins: 158
Facilities: restaurant, bar, cafes, dance floor, lounge
chapel, duty-free shopping
SNAV


Croazia Jet
Length: 82.3m
Width: 23m
Passenger Capacity: 676
Vehicle Capacity: 175
No Cabins
Facilities: self-service restaurant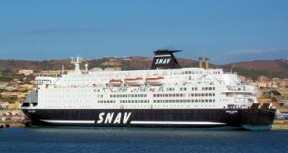 Adriatico
Length: 170m
Passenger Capacity: 1800
Cabin capacity: 1200
Vehicle Capacity: 500
Facilities:luxury suites, bars, restaurants, pizzas, pubs
At the Ancona Ferry Port


Ancona Ferry Port

Arrive two hours before embarkment. Bring your passport or other identifying document (see Croatia border formalities) and proceed directly to the Jadrolinija, Blue Line or SNAV stall of the main ferry terminal. You will receive your boarding documents and information about the location and boarding time of your ferry. You will then be directed to pass through passport control.
Map of Ancona Ferries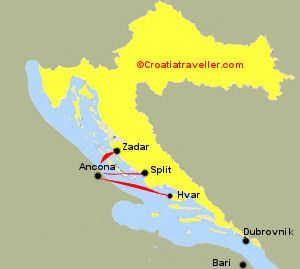 Click for a map with all Croatia ferries
Visit Croatia 2020: Covid Rules
It's been a tough six months for Croatian tourism since Covid 19 swept into the Western hemisphere. Visitor numbers plummeted as cancellations rained down on flights, tours and accommodation. Along with the rest of Europe, Croatia fought the coronavirus with lockdowns, social distancing and masks. Their efforts paid off. As of today, Croatia has suffered just short of 3000 cases of the virus since March 19 with 110 deaths, far fewer than other European countries. Border Rules Now the country is ready to open its borders to visitors while still aiming to protect the public against the virus. As of … Continue reading →
The post Visit Croatia 2020: Covid Rules appeared first on Croatia Travel Blog.
More.
Top Ten Travel Mistakes in Croatia

From ferries and cars to accommodation and travel planning: be travel-wise and avoid these errors.
The post Top Ten Travel Mistakes in Croatia appeared first on Croatia Travel Blog.
More.
Essential Ferry News 2019

This year several new ferry lines make it easier to stay boat-bound and get around Croatia. Are you flying into Split airport? There are many ways to get to Split from the airport but one of the most pleasant is to take a new passenger ferry that will whisk you into town in 20 minutes. The service is handled by Catamaran Line and runs from 15 May to 15 September. For those looking for an easy connection to the nearby islands of Brac, Hvar or Korcula, this ferry is particularly useful as you'll be right at the port. Schedules and … Continue reading →
The post Essential Ferry News 2019 appeared first on Croatia Travel Blog.
More.
10 New Things in Croatia

From new flights, ferries and hotels to better crowd control in Croatia's most popular destinations, here's what you need to know in 2019.
The post 10 New Things in Croatia appeared first on Croatia Travel Blog.
More.
Subscribe to Croatia Ferry News
Recommended Experiences
More from Croatia Traveller
My Favorite Travel Accessories
©CroatiaTraveller 2005-2021 All rights reserved