Not only are there more restaurants in Dubrovnik, the quality and variety has also improved as befitting an international tourist destination. Dubrovnik restaurants now span the gamut from cheap to exorbitant, from casual to dressy indeed. (see more on Dubrovnik dining). Yes, you can find a crush of restaurants on infamous Prijeko street, but few are standouts. Here's what I would recommend.
Top End Restaurants
Nautika
Brsalje 3
With a great location just outside Pile Gate, Nautika is class all the way. It's routinely named as one of Croatia's top restaurants for its blend of classic and modern cuisine. Nevertheless, it's rarely frequented by locals.
Proto
Siroka 1
Owned by the same company as Nautika, the emphasis here is on fish and seafood prepared in traditional Dubrovnik style. Dining is slightly more casual here and there is a local following.
Restaurant 360
Sv Dominika
Modern, relaxed and very trendy, this new place is committed to elegance and the finest cuisine. The chef is inspired by Mediterranean flavors but is also grounded in classic French gastronomy. The decoration and setting is exquisite and worth a stop if only for cocktails. In 2018 Restaurant 360 was awarded its first Michelin star.
Portrait
Od Puča 8
Star chef Jeffrey Vella (formerly of Gil's and 360°) has opened this new restaurant in the romantic Gundulic Palace. The finest local ingredients are served up with style and flair.
Victoria Restaurant
Frane Supila 4
Part of the luxurious Villa Orsula hotel, Victoria is captained by chef Roberto Chavez who concocts magic from Mediterranean and Peruvian inspiration. His signature dish is Tuna Tataki Tiradito. Dining on a terrace overlooking the sea is another plus.
Mid-Range Restaurants
Orhan
Od Tabarike
Only a few steps from Nautika but much cheaper, this restaurant with a terrace overlooking the sea has accumulated quite a fan club over the years. Famous for its heaping plates of seafood and scrumptious black-ink risotto, patrons are also pleased with the roast veal.
Levenat
Nika i Meda Pucica 15
If you're staying in Lapad, no need to confine yourself to a hotel restaurant. This classy establishment serves up delectable Dubrovnik cuisine in a pretty dining room.
Restaurant Horizont
Put od Bosanke 8
This new addition to Dubrovnik's dining scene is making waves around Ploce gate. Run by a local family, the menu is a sophisticated take on beloved fish, seafood and pasta dishes. The views over the Adriatic are stunning and the wine list is impressive.
Wanda
Prijeko 8
The imaginative Mediterranean cuisine here has caused reviewers to swoon. The emphasis is on fish and there are some incredible pasta dishes. Portions are small however. Count on two courses to feel as though you've eaten a meal.
Pantarul
Kralja Tomislava 1
This young, modern restaurant prides itself on the quality and freshness of its ingredients. Start with stewed octopus over creamy polenta and go on to a prawn and vegetable risotto before finishing with a chocolate and hazelnut mousse cake.
Taj Mahal
Iva Vojnovića 14, Nikole Gučetića 2
Can't work in a day trip to Mostar? This Bosnian restaurant is the next best thing. Actually there are two restaurants--one in the Hotel Lero and the other in the Old Town--but both are big favourites with Croatians. Hearty meat and vegetarian dishes showcase the unusual spices and flavour combinations of Dubrovnik's northern neighbour.

Budget Restaurants
Buffet Škola
Antuninska 1
Fast-food Dubrovnik-style with smoked ham sandwiches, locally-caught sardines and marinated cheese. A vegetarian sandwich will run €3.50 and a vegetarian plate is available for €10.50.
Bistro Riva
Lapadska obala 2
Simple and filling, the international dishes in this Lapad eatery are a favorite with local students year-round.
Glorijet
Obala Stjepana Radića 16
This cosy, cavelike eatery with soft lights and friendly service is where locals eat. From Adriatic calamari to vegetarian spaghetti to fresh fried fish, everything is prepared according to tradition. Excellent value for money.
Lokanda Peskarija
Old Port
Too many guidebook reviews (all excellent) have kept the crowds flowing in to this very typical fish house on the port. It's hard to beat the prices and the scenic location. The interior is decorated in a comforting nautical theme.
Kamenice
Gunduliceva
At the scene of the morning market, venerable Kamenice serves up big plates of mussels to a stream of appreciative patrons. Touristy in the high season, it reverts to a local hangout off season.
Mea Culpa
Za Rokom 3
Incredibly popular for years, this restaurant is a blur of activity as waiters race outside bearing steaming pizzas to the diners outside. The crust is appropriately crunchy and the ingredients are the freshest. Expect to spend from €10 to €14 per pie.
Sesame
Dante Alighieria
Just about 100m from the Old Town, this relaxed tavern-restaurant-inn is a great place to have a drink and nibble or settle in for a tasty meal. The crowd is young and casual.
Vegetarian Restaurants
Nishta
Prijeko 30
It's truly vegetarian and draws inspiration for such far-flung places as Mexico, India, China and the Middle East. From falafel to spring rolls, you can nosh well and keep a clear conscience.
Did you like this page?
Get Croatia Traveller's Dalmatia: Split to Dubovnik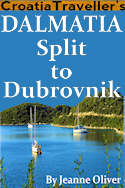 Related Pages
Dubrovnik
Travel Planner
Dining in Dubrovnik
One Day in Dubrovnik
Updated: December 9, 2022