Lapad is a residential suburb of Dubrovnik that lies about 3km northwest of the Old Town. The interior is mostly green and calm with plenty of attractive sea views and some excellent restaurants. There's a tremendous amount of accommodation in Lapad including hotels, apartments and guesthouses but because it's so residential you don't get the feeling that you're in a tourist ghetto. There are bars, cafes, restaurants and shops used by locals and visitors alike.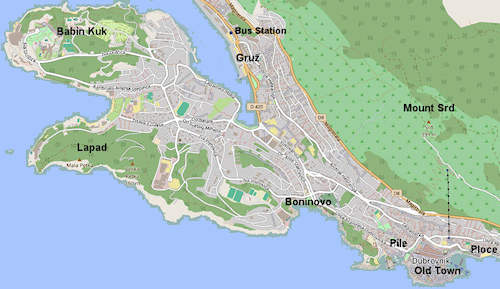 You can walk everywhere in Lapad. Since it's relatively compact you can stroll from the beach to a restaurant to your hotel to a cafe-bar without breaking a sweat. Parts of Lapad are pedestrian only but most Lapad accommodation has ample parking facilities.
Beaches in Lapad
Lapad has a long stretch of gravelly beach so no matter where you stay, you'll be within walking distance of the sea.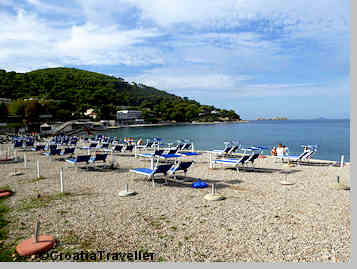 Part of the main beach in Lapad is "managed" which means it will cost you about €6.60 daily to relax on a lounge chair under an umbrella. There are also cabins, showers, toilets and casual snack joints. It's convenient but certainly busy in summer.
For a quieter sea experience, do as the locals do and walk the coastline path north toward Babin Kuk where many of the flat rocks have been turned into impromptu bathing centers including ladders into the sea.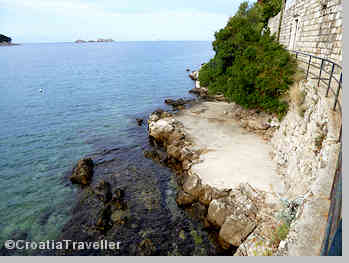 Getting to Lapad
Getting back and forth to the Old Town can take a little more effort. It's a long and not particularly interesting walk but fortunately buses are frequent to the Old Town and the harbour. The number 4 bus is particularly useful as it connects the Hotel Palace and other seaside hotels with Pile. (See a map of Dubrovnik bus routes). Airport buses do not extend to Lapad but you can disembark at Pile gate and get a Lapad bus there.
  Five-star Hotels in Lapad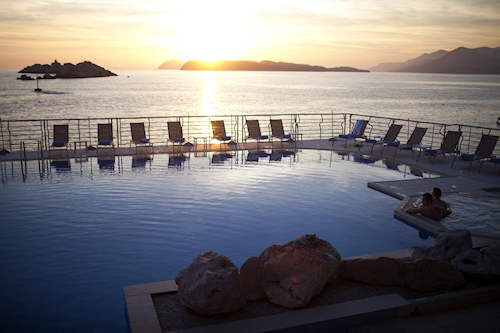 Hotel Dubrovnik Palace
This acclaimed hotel has been completely overhauled by the Croatian design company, 3LHD, which has worked to highlight and complement the views of the Adriatic sea and nearby Elaphiti Islands. 3LHD worked with a number of contributors to make this refurbishment a real Croatian design product - mobile furniture and lamps are the work of the successful studio Grupa, artist Mara Šuljak created bespoke wallpaper with Mediterranean motifs, and the choice of fabrics, curtains and bedspreads was entrusted to Croatian design duo I-GLE.  The refurbishment took six months but it is now the ultimate in sophisticated design.

Book Now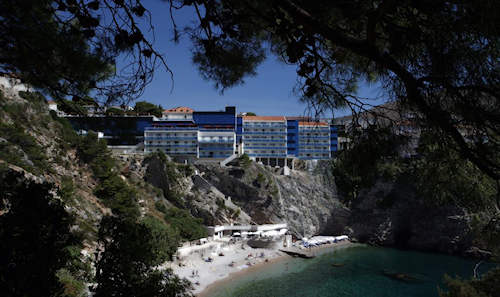 Bellevue Hotel
Not only are there incredible views from every room but it's on the very edge of Lapad and a short walk to the Old Town. And, there's a private beach only steps away.

Book Now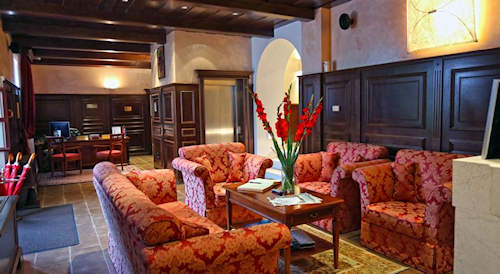 Hotel Kazbek
A recent addition to Dubrovnik's hotel scene, this extends the concept of "boutique hotel" to a new level. The 13 majestic rooms are in a 16th-century castle.

Book Now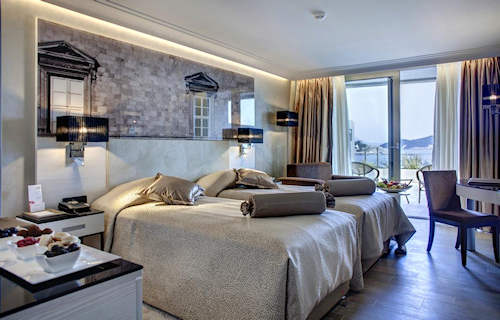 Hotel Rixos Libertas
This 254-room establishment has won the World Travel Award as Europe's Leading Casino Resort as well as the award for Best Beachfront Hotel in Croatia. How would you like your own private terrace overlooking the Adriatic?

Book Now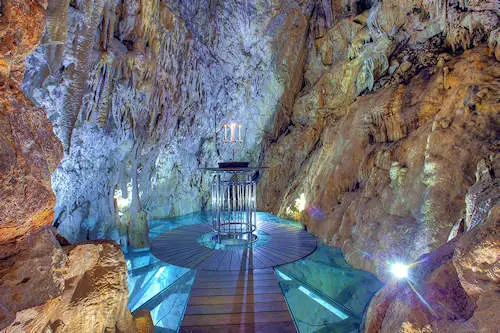 Hotel More
This  cushy hotel between Lapad and Babin Kuk has 33 luxurious rooms and two suites, most of which have sweeping sea views. The unique "cave bar" is a popular spot with locals and the "beach" area is beautifully arranged with comfortable lounge chairs.

Book Now
Four-star hotels in Lapad
Near the beach and with an outdoor swimming pool and wellness center, this old standby was completely overhauled in 2015 in a sleek, modern style. Ask for a room with a balcony overlooking the sea. Book Now
Good value for money in this large and recently renovated hotel with a pool and private beach. Book Now

This sophisticated place is where you can buff yourself into shape with Turkish baths, Finnish saunas and a healthful helping of macrobiotic food in the restaurant. Book Now
Always brimming with charm and atmosphere, this hotel has an excellent location with beaches, Gruz and the Old Town just a short hop away.
Book Now
It's a favourite of groups partly because the rooms are all spacious, air-conditioned and well-outfitted. Visitors also like the hotel restaurant, Taj Mahal. Book Now
This small and recently renovated family hotel is an excellent choice if you'd like a room with a balcony view. Book Now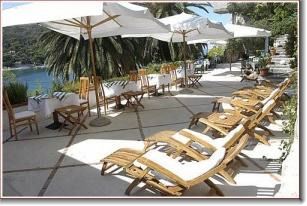 Villa Wolff

This small, boutique hotel offers a lot of style and is only steps from the beach. Book Now
All four-star accommodation in Lapad.
Budget Hotels in Lapad
It's in the heart of the action on a busy street in Lapad but the double-glazed windows create a calm interior. Book Now
A sleek and gleaming interior plus two restaurants (with a vegetarian option) make this hotel well worth its three stars. It's not on the beach though. Book Now
Close to the sea and in an attractively restored traditional building near the beach this is another good choice. Book Now
All budget accommodation in Lapad
Two-star Hotels in Lapad
Hotel Adriatic
Large and fun, the simple rooms have private baths and the hotel is right next to a bus to the Old Town. Book Now
Hotel Sumratin
Also with private bath, this place has easy access to Lapad's beach and nightlife. Book Now
All two-star accommodation in Lapad
BEst Apartment rentals in Lapad
As a predominantly residential neighbourhood, Lapad has a wide range of private accommodation. Conveniently, there are also plenty of stores to pick up food and supplies for your accommodation as well as cafes to arrange breakfast. The following are the best-rated apartment rentals in Lapad based upon actual visitor reviews on booking.com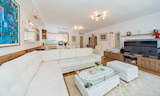 Dubrovnik Luxury Residence--L'Orangerie
Steps from the beach and with a balcony in each exquisite apartment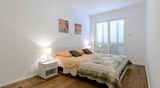 Dvori Lapad
Quiet apartments with balconies and free parking.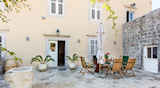 Orka Apartments
Simple furnishings in rooms & apartments; fab views, garden and barbecue.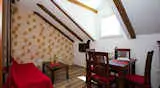 Villa Mia
Well-outfitted rooms & apartments and near a beach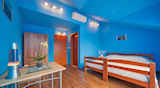 Cosmopolitan House
Overlooks Lapad bay with cheerful furnishings
Check out more apartment rentals in Lapad
Hostels in Lapad
Dubrovnik's official HI Youth Hostel is in Lapad but, frankly, the establishment is in need of an overhaul. A better bet is the modern and comfortable Hostel 365 For U.
[Check out all hostels in Dubrovnik]
Other Dubrovnik Neighbourhoods
Further Resources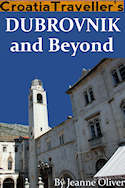 Dubrovnik Guidebook
  Related Pages
Dubrovnik
Travel Planner
Best Hotels
Apartment Rentals
Where to Stay
One Day in Dubrovnik