Dubrovnik's Cathedral (full name Cathedral of the Assumption of the Virgin) is a venerable structure whose roots stretch back to the 7th century. Beneath the Cathedral, nearby archaeological excavations have revealed the foundations and walls of two older churches. The first was an early Christian basilica built sometime in the 7th or 8th century. Around the mid 10th century it was probably rebuilt and vaulted by a cupola and its walls were decorated with frescoes.
Around the mid-12th century another magnificent church was constructed around the walls of the original church. Some say that this new church was financed by Richard the Lion-Heart who, on his return from the Third Crusade, was shipwrecked off the island of Lokrum. Saved by the citizens of Dubrovnik, he was so grateful he gave a substantial gift to finance the new church.
Certainly the beautifully decorated Romanesque Cathedral was fit for a king but unfortunately it was destroyed in Dubrovnik's earthquake of 1667. Rebuilding started quickly and this Cathedral was completed in 1713.
The interior of the Cathedral is rich in treasure--especially in the Treasury. There are 138 gold and silver reliquaries--some of which are set with jewels or decorated by reliefs, and most of which were made by Dubrovnik goldsmiths from the 11th to 17th centuries. The reliquaries contain bits and pieces of St Blaise, Dubrovnik's patron saint and an alleged fragment of the Holy Cross.
There are also artistic treasures in the Cathedral. Over the main altar, there's a polyptych of the Assumption of the Virgin from Titian's studio and a painting attributed to Raphael in the Treasury.
Did you like this page?
Get Croatia Traveller's Dalmatia: Split to Dubovnik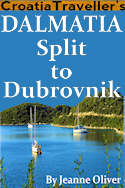 Related Pages
Sightseeing in Dubrovnik
One Day in Dubrovnik
Dubrovnik
Travel Planner
Dubrovnik History