Only one day in Dubrovnik? Yes you can get the best of Dubrovnik in only one day.  Dubrovnik's historical core is compact and easily explored on foot. With careful planning you can visit Dubrovnik's top sights and experience Dubrovnik's restaurants, cafes and nightlife like a local. Here's how to do it:
Stradun
Start your day on Stradun, or Placa, Dubrovnik's main pedestrian street where the ancient stones are cool in the morning light. Admire the grace and harmony of Dubrovnik's baroque buildings. Along this wide gleaming street lined with shops and cafes, all Dubrovnik's processions take place. It's curious to note that Stradun was actually a part of the sea until the 11th century when it was finally paved over.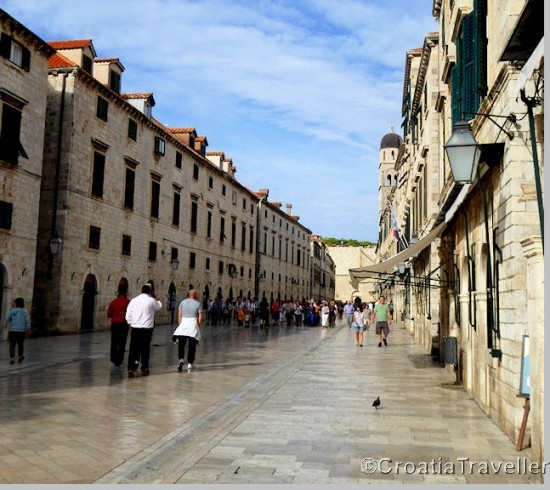 At the bottom of Stradun, take a seat outdoors at Cafe Cele, Dubrovnik's best people-watching cafe. Sip a cappuccino, nibble a pastry and watch the city awaken.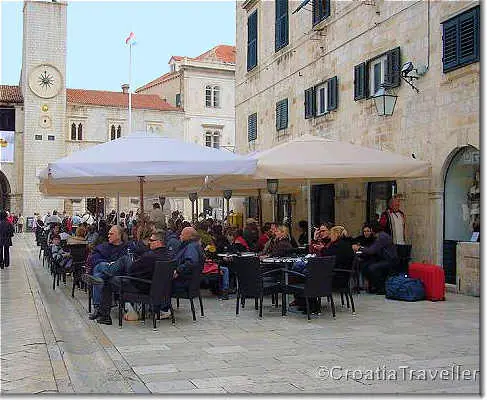 While on Stradun, visit Dubrovnik's top sights on the eastern side.
St Blaise Church
Duck into St Blaise Church, which is Dubrovnik's most beloved church because it honors the city's patron saint.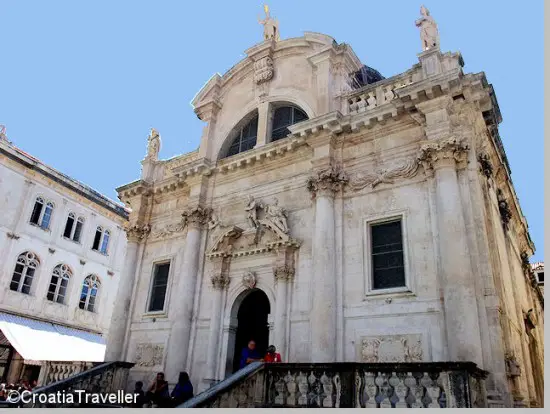 Don't miss the 15th-century statue of St Blaise holding a model of medieval Dubrovnik in his hand.
Morning Market
Take a stroll through the morning market at Gunduliceva Square, right behind the church, where bounty from Dubrovnik's fertile hinterlands is for sale. In the centre of the square is a statue of Dubrovnik's renowned poet Ivan Gundulic.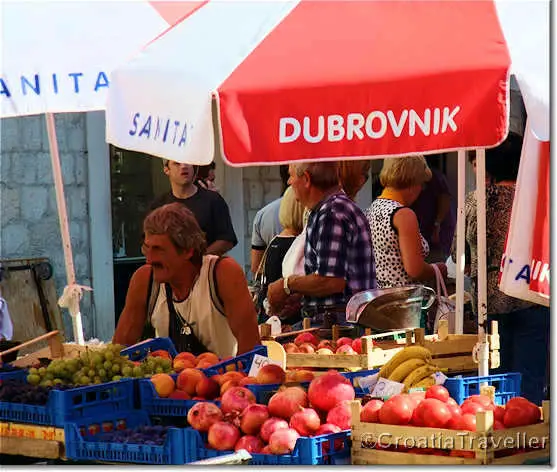 Cathedral
On the northern side of the square is Dubrovnik's Cathedral and Treasury stocked with priceless objects and art treasures from Dubrovnik's golden age. Built in the 18th century after an earthquake destroyed the original, the cathedral is still being explored after excavations revealed traces dating back to the 7th century.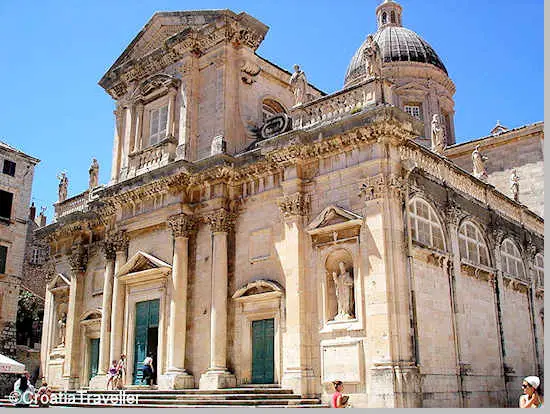 Don't miss the polyptych of the Assumption of the Virgin in the Treasury, relics from St Blaise and a Madonna attributed to Raphael.
Rector's Palace
On the way back to Stradun, the Rector's Palace is a jewel with an imposing and elegant facade. It was built in the late 15th century for Dubrovnik's ruler, the elected Rector, who held office for one month on a revolving basis and was not allowed to leave during his term. The interior has been turned into a fascinating museum.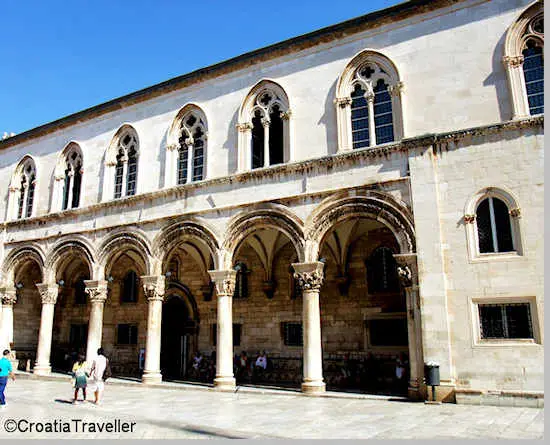 Don't miss the rooms decorated in period style with furnishings and art from Dubrovnik's glorious past.
Monuments
Back on Stradun, notice the clock tower, the Little Onofrio fountain next to it, the Sponza Palace and Orlando's Column. Dubrovnik's architectural heritage is astounding and all visible for free.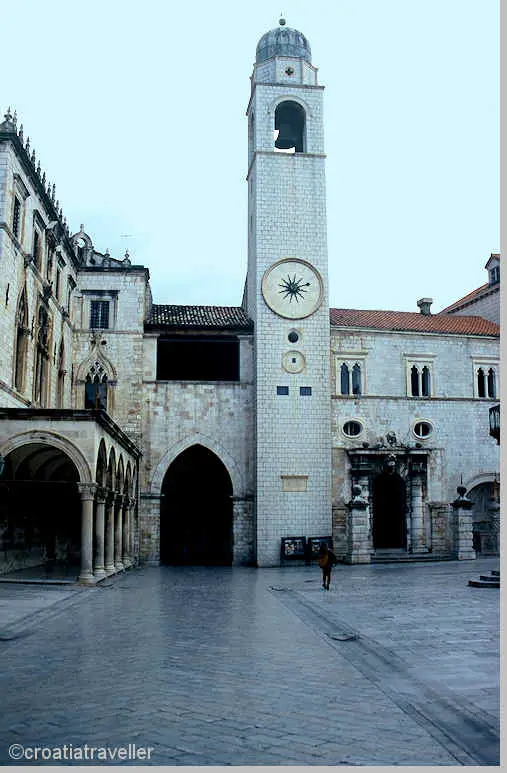 Clock Tower
A majestic punctuation point to Luza square, the bell tower was was constructed in 1444, damaged in the earthquake of 1667 and rebuilt in 1929. Two little green men above the clock tower, Maro and Baro, hammer out the hours as they have since the 15th century. The clock tower has been rebuilt several times since then.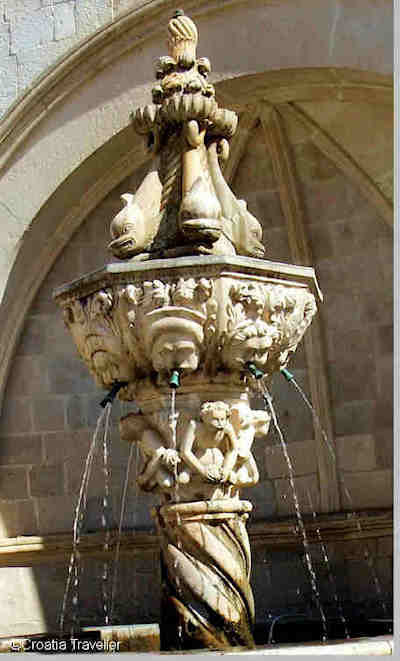 Little Onofrio Fountain
Part of the same water system as the large Onofrio fountain, Little Onofrio was named after the Italian engineer who designed it, Onofrio della Cava. Heavily damaged in the bombing of 1991, this fountain was painstakingly reconstructed.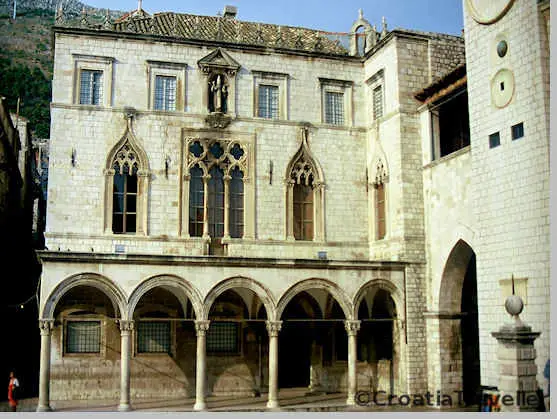 Sponza Palace
Dubrovnik's Renaissance highlight is the Sponza Palace which now houses the State Archives. You may visit the ground floor and the Museum of the Dubrovnik Defenders.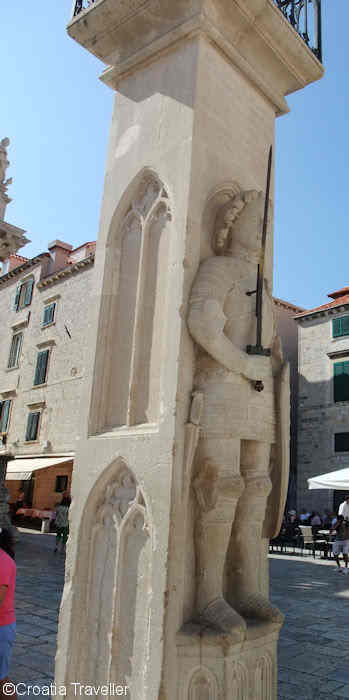 Orlando Column
Orlando's Column was erected in 1418 in honor of the legendary Roland (Orlando) who never actually came to Dubrovnik. Nevertheless, his statue symbolized a free merchant state. For centuries the length of his forearm was the official measure. The Ragusan cubit measured 51.2 centimeters. Now, this statue, right in front of St Blaise church is a popular meeting place.
Dominican Monastery
Take Sv Domenica street to the Dominican Monastery. The sober exterior houses Dubrovnik's finest art collection and a splendid Gothic-Renaissance cloister.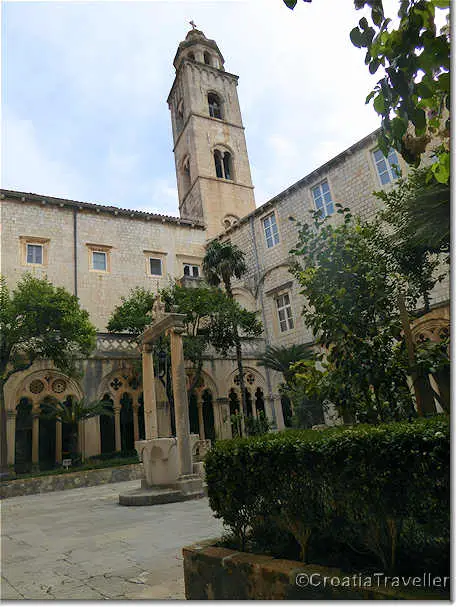 Don't miss Titian's Mary Magdalene in the art museum.
Old Port
Leave the old town via the eastern gate at Ploce and admire the old port.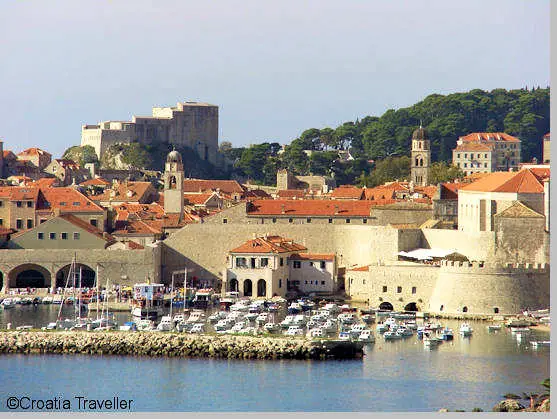 Stop for a quick lunch at Lokanda Peskarija right on the port, a local favorite for the super-fresh fish and seafood served fisherman-style.
the city Walls
After lunch, it's time for Dubrovnik's main highlight, a walk of Dubrovnik's walls.  This magnificent curtain of stone, punctuated by forts, towers and canons, is what makes Dubrovnik the "pearl of the Adriatic". Gaze south and the Adriatic sea, strewn with islands, shimmers before you. Gaze north and jagged mountains form Croatia's border. East is Cavtat and Montenegro; west are the Elaphiti islands. Gaze down and Dubrovnik's rust-coloured roofs catch the sun. The experience is unforgettable.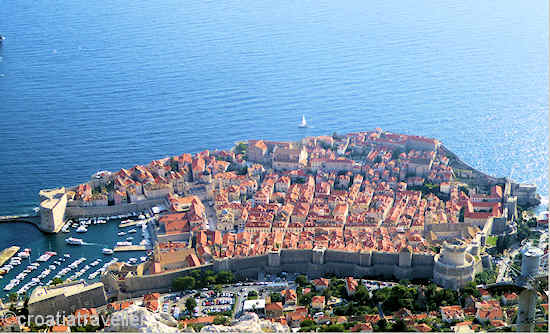 I recommend visiting the walls after lunch, preferably in mid to late afternoon when there are fewer visitors. Also recommended is starting at the Ploce entrance which is less busy than the Pile entrance. A complete circuit will take about an hour and a half.
Franciscan Monastery
Back on Stradun, walk west to the Franciscan Monastery with an exquisitely carved Pietà on the facade.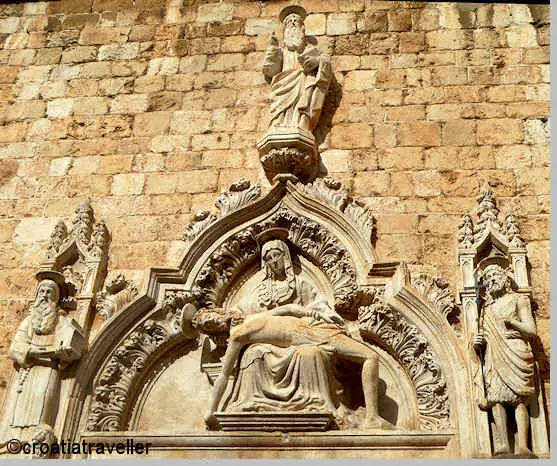 Inside is the Pharmacy dating from the 14th century and a gorgeous cloister also from the 14th century.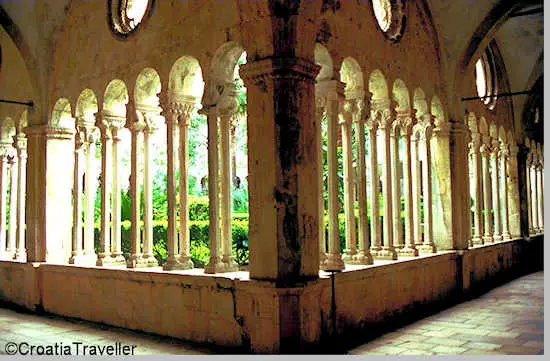 Onofrio Fountain
Opposite the Franciscan monastery is the circular Onofrio Fountain (named after its Neapolitan builder) built in the 15th century and sporting 16 carved masks.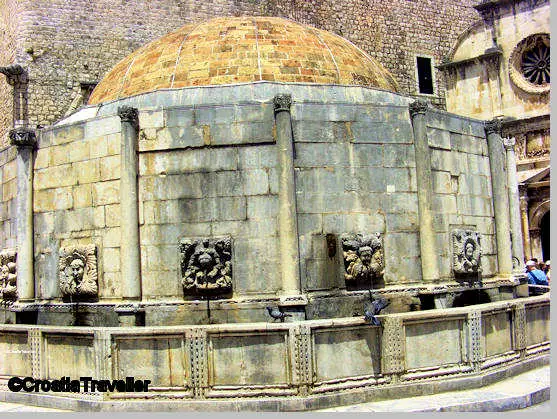 Unlike the rest of Dalmatia, Dubrovnik citizens were not relegated to capturing rainwater; the fountain was connected by aqueduct with a spring 12km from town. Five and a half centuries later it was still working so well that it supplied Dubrovnik residents with drinking water during the bombing of 1991. Although heavily damaged in the bombing, a skillful reparation restored its stately grandeur.
Saint Savior Church
Next to the Franciscan monastery is the 16th-century St Saviour Church, one of the few Renaissance structures to survive the earthquake of 1667.There are often concerts and exhibitions here.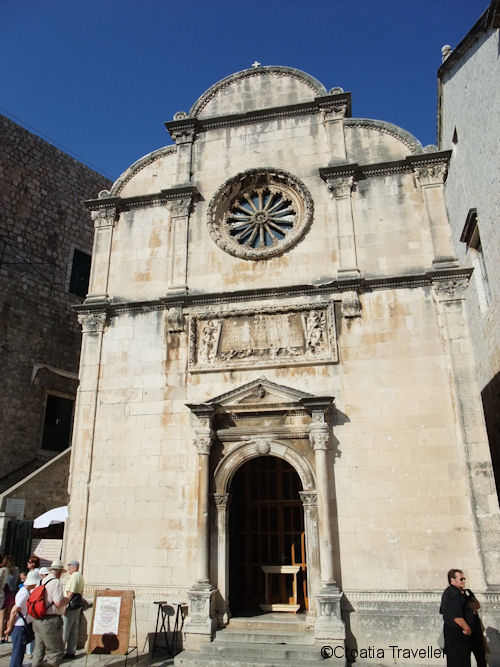 Hungry? Stop for a snack at Buffet Skola nearby (Antuninska 1) which serves up tasty, inexpensive sandwiches on fresh, fluffy bread.
Pile Gate
Leave the walled city via Pile Gate. You'll quickly appreciate rich Ragusa's security concerns when you cross over a drawbridge that was raised every night. There are two massive doors through the walls, an exterior door in a Renaissance style and a Gothic interior door topped by the statue of St Blaise, Dubrovnik's patron saint who protects the city.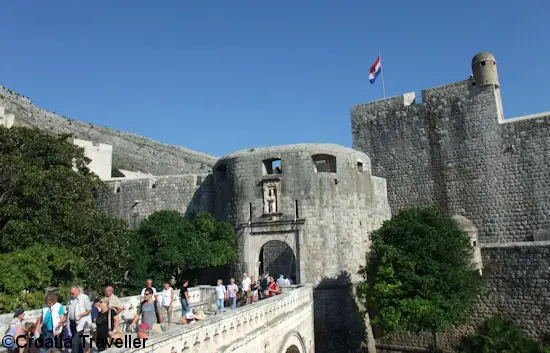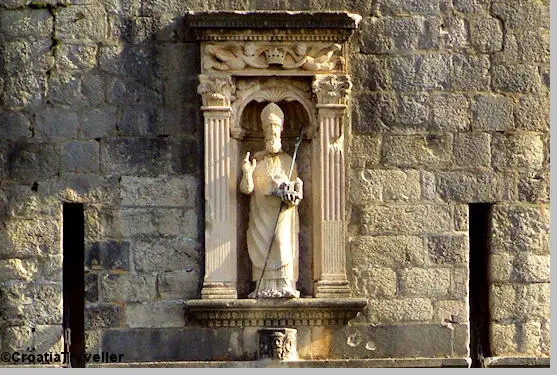 St Lawrence Fort
Finish off the sightseeing day by climbing up to Fort Lovrijenac (St Lawrence Fort), an essential part of Dubrovnik's defensive system.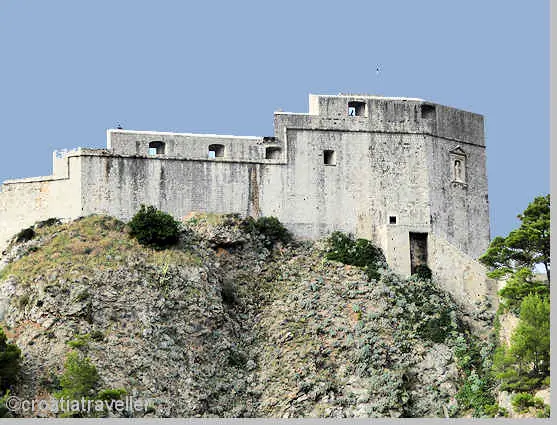 From here you can admire Dubrovnik's western walls in the setting sun.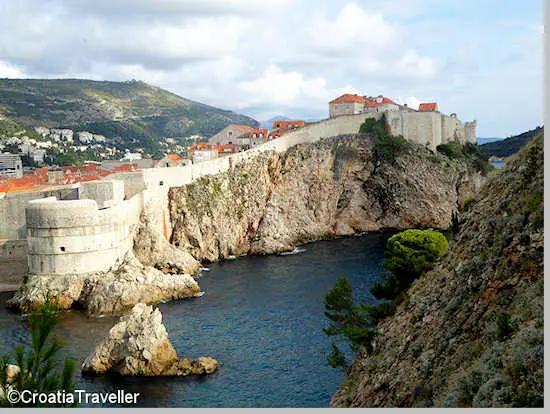 It's cocktail hour! There's no better place to watch the sunset than from Cafe Buza high over Buza beach. To get there, return to the old town and turn right on Siroka and climb up through some of Dubrovnik's less-travelled streets. Climb up as far as possible, turn left and look for the 'Cold Drinks' sign. It's literally a hole in the wall.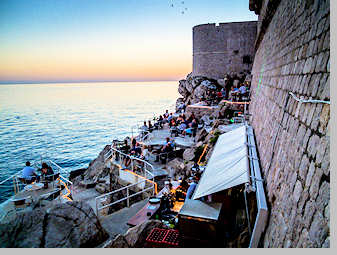 courtesy suitcaseandheels.com
Ready for dinner? Dubrovnik has an amazing choice of restaurants. Among Dubrovnik's best restaurants are: Victoria Restaurant in Ploce where the chef turns out imaginative international cuisine on a terrace overlooking the sea; Restaurant Horizont a mid-range restaurant also in Ploce with great views; Pantarul in Lapad, which is attracting notice for its fresh, young take on traditional dishes.
And for nightlife, there's the Skybar disco, Troubadur for jazz, Revelin for dance parties and Park Orsula where locals go for music. More on Dubrovnik nightlife.
Tip
Before heading to the streets of Dubrovnik see the cruise ship schedules so you don't get caught in the throngs.
If you have two days or more, you could check out the following sights . . .
10 New Things in Croatia for 2019

From new flights, ferries and hotels to better crowd control in Croatia's most popular destinations, here's what you need to know in 2019. More.

Beat the Heat on the Croatian Coast

It's hot out there! The Croatian coast from Istria to Split and Dubrovnik is sweltering in a heat wave but here are 12 cooling ideas to get you through the summer. More.

Best Outdoor Destinations in Croatia

With eight National Parks and nearly a dozen protected Nature Parks not to mention islands, rivers, mountains, rolling hills and placid seas, Croatia is a paradise for active travellers. Here are the very best destinations to experience the great outdoors. More.

New Split to Dubrovnik Catamaran 2017

Island-hopping in Croatia just got easier! There's a brand new passenger ferry that will connect Split and Dubrovnik via Hvar, Korcula and Bol (Brac island). More.

Visiting Dubrovnik: What's New in 2017

Dubrovnik surprises visitors this year with new flights, hotels, restaurants and even electric scooters but also visitor limits. More.

Recommended Tours
More from Croatia Traveller
My Favorite Travel Accessories
©CroatiaTraveller 2005-2019 All rights reserved