The Konavle region is on the southernmost tip of Croatia, running from Cavtat south to the Montenegrin border. (see the map below) It includes the Konavle valley or Konavosko Range which is protected on the northeast by karstic mountains, the highest of which is Mt Snijeznica (1234m). Konavle is separated from the sea by a chain of lower hills. Most of the land is planted with vineyards and fruit trees. The only mark on this bucolic scene is the Dubrovnik airport.
North of Konavle is the Dubrovnik Riviera (Zupa Dubrovacka).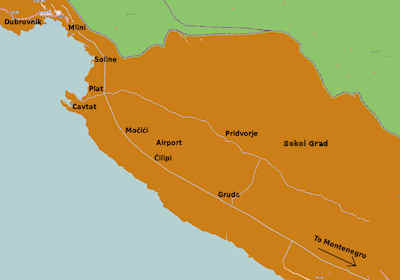 What to See
There are 20 villages in Konavle, the largest of which are Cilipi and Gruda which is the region's administrative capital . All except Cilipi and Gruda are on the slopes of hills or mountains. As an agriculturally productive region, it was a tremendous asset to the Republic of Dubrovnik (see Dubrovnik history) and a number of the villages contain reminders of Konavle's fascinating history. In the village of Pridvorje is a Ducal palace that recalls the days when wealthy Dubrovnik residents built villas in the region. In the hamlet of Mocici is an ancient temple complex as well as traces of an even earlier Illyrian shrine.
Cilipi
Perhaps the best known of the region's villages is Cilipi. Known for its beautiful folk costumes sported by both men and women and the colourful folk dance, the Lindo, the village has been a tourist magnet for decades. Performances take place in front of the church each Sunday morning and are well worth the visit.
Sokol Grad
Sokol Grad or Sokol Kula is a restored fortress whose history stretches back to 2000 BC. Recently restored and open to the public, part of the fort has been turned into a museum exhibiting rare artifacts that evoke the importance of the fort to the Republic of Ragusa. Built upon a hill, this impressive fortress also affords a sweeping view of the rugged coastline of the Dubrovnik Riviera. Take a tour that includes Sokol Kula.
Where to Eat
Another major regional attraction is the sprawling rustic restaurant, Konavoski Dvori. On the banks of a river and surrounded by greenery, the restaurant specializes in regional cuisine.
Visiting the Konavle Region
Prefer independence?
Rent a car!
The region can be visited independently by car, following the road to the Dubrovnik Airport. There are also organised tours from Dubrovnik that visit the region and that can be booked online. See:
Konavle Map
Accommodation
With no big hotels and no crowds, Konavle is the place to get away from it all. The only accommodation is in tranquil Cilipi, including the region's best hotel, the Hotel Konavle. Another great choice is the Villa Oasis Cypress.