Dubrovnik is not only a fascinating place to explore in its own right but it makes a great base for day trips throughout southern Dalmatia and beyond. There's a wealth of islands to explore, Montenegro and Bosnia-Hercegovina are within reach and the Dubrovnik region is replete with small villages that retain their folklore traditions.
Best Place to Stay for Day Trips
To visit Dubrovnik's surroundings independently, it helps to stay near the ferries and buses that can take you there. Dubrovnik's ferry port and bus station are in the Gruz neighbourhood which happens to be easily accessible from the old town as well. Of course if you book an organised tour you will get hotel pick-up no matter where you're staying.
Check out this selection of Dubrovnik accommodation
 Best Day Trips From Dubrovnik
Elaphiti Islands


The Elaphiti islands are an easy and pleasant day trip from Dubrovnik. Of the 13 islands in the archipelago, only three are inhabited: Lopud (above) known for its sandy beach; Kolocep which is hilly and forested; Sipan which is great for cycling. To visit the Elaphiti islands independently, see these ferries:
Dubrovnik-Sipan
Dubrovnik-Kolocep, Lopud, Sipan
Dubrovnik-Sudurad
As the schedules do not permit a visit to all three islands in one day, consider taking an Elaphiti islands cruise. Book a tour now!
Mljet Island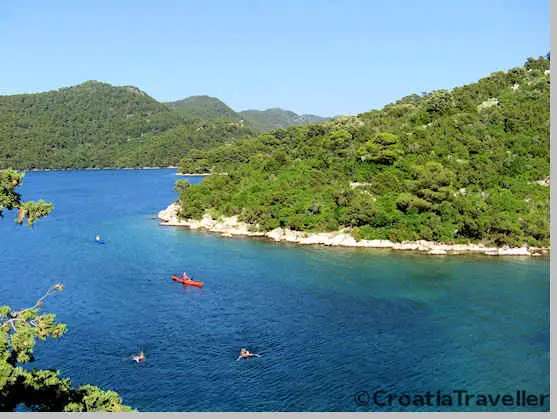 Woodsy and unspoiled Mljet island is home to the Mljet Island National Park. The park contains two inland lakes and an island monastery. A day in the national park is perfect for cycling, kayaking, swimming or just strolling the trails. The national park has two entrances: Pomena and Polace. To visit Mljet island independently on a day trip, see these ferries:
Dubrovnik-Polace
Prapratno-Sobra car ferry
Or, take a cruise to Mljet that includes a guided tour of the national park, lakes and monastery. Book a tour now!
Lokrum Island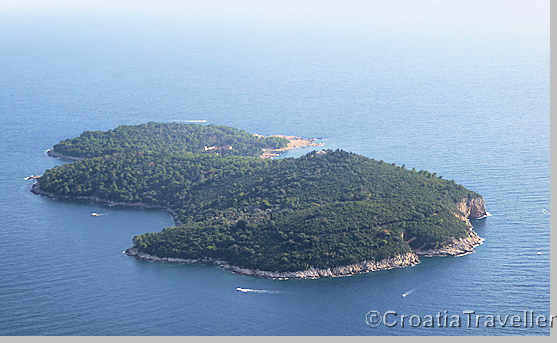 Lokrum island is only a 20-minute boat ride from Dubrovnik which makes it a perfect half-day escape from the hustle and bustle of the city. There are a number of rocky beaches and a small inland lake with a beach. Kids will love the peacocks and bunny rabbits roaming freely through the trails and gardens. To visit Lokrum island, head to the old port and take one of the frequent daily boats.
Montenegro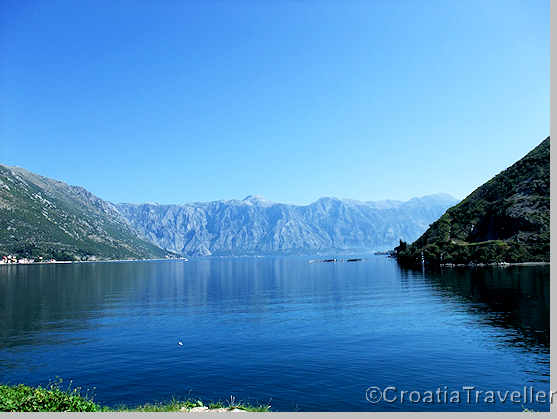 It's all the rage. Crossing the border into Montenegro takes you to the luscious Bay of Kotor (above), one of the most stunning in the Adriatic. The walled town of Kotor makes a fascinating contrast to Dubrovnik and there's also Budva and Herceg Novi to visit. To visit Montenegro independently, take the 7.15am bus from Dubrovnik that stops at both Budva and Herceg Novi before reaching Kotor. It's about a three-hour drive to Kotor. Be aware that it's a popular excursion and lines at the border can be long. Don't forget your passport!
To comfortably visit Budva, Herceg Novi and Kotor, consider taking an organised excursion. Book a Montenegro tour now!
Mostar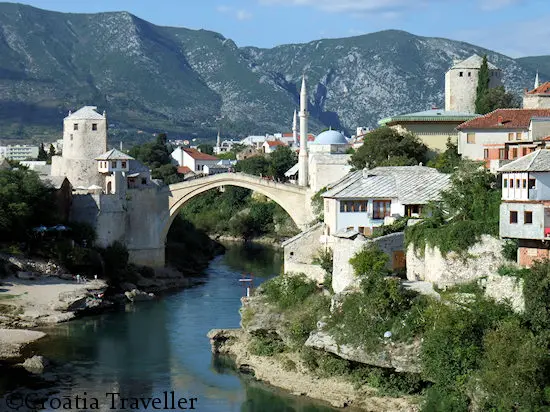 Mostar is one of the chief attractions of Bosnia-Hercegovina that is so close yet so different from Croatia. Mostar's 400-year old bridge has been painstakingly restored after its destruction in the 1990s. To visit Mostar independently, take the 8am bus from Dubrovnik which takes about 3 1/2 hours. Unfortunately the return bus leaves at 12.30!
It makes more sense to take an organised tour to Mostar which includes a local guide. Book a Mostar tour now!
Compare Car Rental Prices and Save
Korcula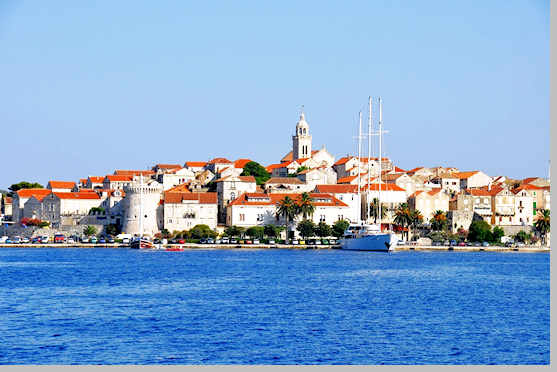 Walled Korcula town is the highlight of Korcula island and a must on any Adriatic exploration. Tucked onto a small peninsula, the town is crammed with churches and palaces that recall the island's Venetian overlords. To visit Korcula independently (summer only), see these ferries:
Dubrovnik-Korcula-Split
Dubrovnik-Korcula-Ubli
Or, consider taking an organised tour to Korcula that includes a wine-tasting. Book a Korcula tour now!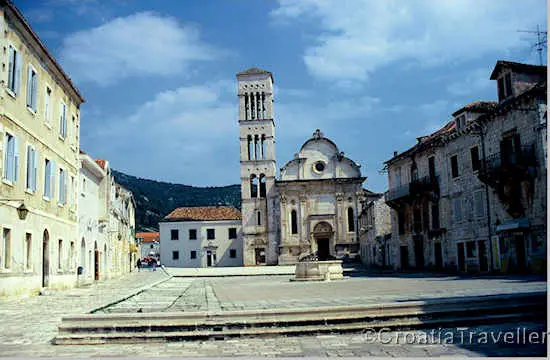 Storied
Hvar town
on
Hvar island
has become legendary for its nightlife. But the daylife is great too! Hvar town has stunning Venetian architecture like Korcula, but its wide harbour opens to the sea and unforgettable views of the offshore islands. Fortunately, there is one summer passenger ferry that's perfect for a day trip to Hvar. See:
Cavtat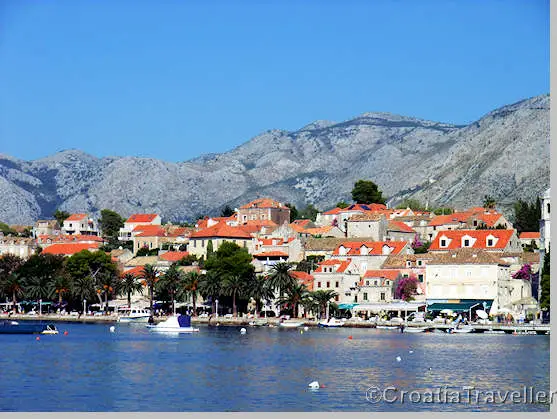 Near the airport and Montenegrin border, Cavtat curves around a scenic harbour bordered by pebble beaches. The old town dates from the 16th century and the highlights include the house of famed painter Vlaho Bukovac and the Racic Family Mausoleum. Cavtat is a 30-minute ride via local bus and a little longer via a boat from the old town harbour.
Trsteno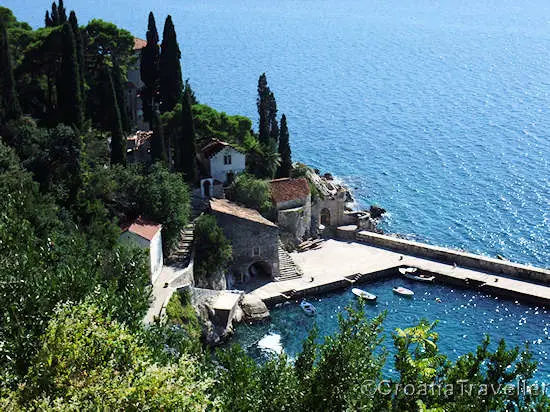 Trsteno is the site of a remarkable Arboretum and Botanical Garden managed by the Croatian Academy of Sciences and Arts. Although badly damaged by Yugoslav artillery in 1991 and again by a fire in 2000, the Arboretum has been lovingly recreated and remains a lovely place to wander. Game of Thrones fans will love checking out the numerous scenes filmed here. It's easy to visit Trsteno independently via a bus from Dubrovnik. Some Game of Thrones tours cover Trsteno.
The Peljesac peninsula is about an hour's drive from Dubrovnik (you'll need a car to visit) and includes marvellous beaches around Orebic (above), vineyards and the fishing villages of Ston and Mali Ston. An ideal day would be a morning drive to Orebic for a swim and a return to Ston to feast on the town's famous seafood. Consider an organised tour to the Peljesac peninsula in order to sample the region's wine and olive oil. Book a Peljesac tour now!


Organised Tours and Excursions
If you have unlimited time and your own wheels you could visit all the above highlights on your own but if your time frame is more cramped I recommend that you book an organised tour.
Booking from an experienced tour operator such as Get Your Guide offers a number of conveniences.
choice of currency
You can pay in US dollars, Australian dollars, British sterling or Euros which can save you money on exchange fees.
hotel pick-ups
You can arrange to be picked up at your hotel, even if you're staying as far away as Cavtat.
low-price guarantee
So you know you're getting your money's worth and cannot find a lower price elsewhere.
Dubrovnik is fast becoming the most visited destination in the Adriatic and summer months can be busy indeed. Do NOT rely on booking an excursion when you arrive in Dubrovnik: they may well be booked out!
Here are more exciting tours from Dubrovnik:
Croatia Folklore Tour
The colorful Sunday morning folklore show in Cilipi provides a wonderful exploration of Croatian culture. Book now!
[Read more about Cilipi and the Konavle valley]
Dubrovnik Walking Tour
Find out what it all is and what it all means on this tour of Dubrovnik's historic core. This tour includes a knowledgeable local guide and covers all the major sights. Book now!
Sarajevo
This vibrant city is the capital of Bosnia and is steeped in a rich and varied history. The tour includes a stop in Mostar and a look at its famous bridge. Book now!
Sea Kayaking

How about admiring the city walls from the sea and paddling into a natural cave? This paddle leaves from late May to late October. Book now!
Game of Thrones tour
This new tour takes you to the locations used for filming HBO's exciting medieval fantasy series. See the sights in and around Dubrovnik's Old Town in an entirely new way. Book now!