Where to go from Dubrovnik? Dubrovnik is not only a fascinating place to explore in its own right but it makes a great base for day trips throughout southern Dalmatia. The Dubrovnik region is replete with small villages that retain their folklore traditions.
Further down the coast is the resort of Cavtat. Lying at the tip of Croatia, Dubrovnik is close to Mostar in Bosnia-Hercegovina and Montenegro, which make great day tours. The Konavle region south of Dubrovnik is a storehouse of local traditions. And offshore, lie some of the most beautiful islands in the Adriatic: Mljet , Lokrum and the three Elaphiti Islands, Lopud, Sipan and Kolocep.
A little further afield lies the Peljesac Peninsula with the fishing villages of Ston and Mali Ston, the beaches of Orebic and, across the channel, Korcula Island. With a car it's possible to visit all of the above in one day.
Another idea for independent travel is a trip across the border to Montenegro, barely an hour down the coast from Dubrovnik and a very scenic ride.
Or, head up to Mostar in Bosnia, a longer day but well worth it.
Where to go?
Elaphiti Islands Cruise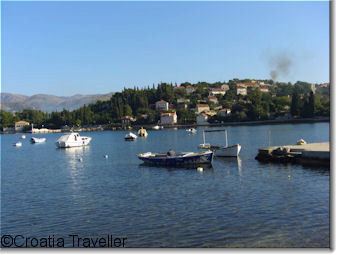 Book a boat trip to the Elaphiti Islands
From the fruit orchards of Kolocep to the sandy beach of Lopud and aristocratic Sipan, this excursion allows you to visit all three of these spectacular islands which is difficult to do on your own.
The excursion includes lunch. Book a tour now!
[Visit the Elaphiti Islands independently]
Mostar
Yes, the war is over. Despite the shudders the name can provoke, Bosnia-Hercegovina boasts some stunning attractions. A visit is difficult to work out on your own but a tour allows you to marvel at the 400-year old bridge painstakingly restored after its destruction in the 1990s. The excursion includes a guided tour of the old town. Book now!
Montenegro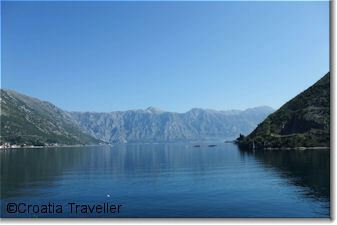 Book a tour to Kotor, Montenegro
It's all the rage. Crossing the border into Montenegro takes you to the luscious Bay of Kotor, one of the most stunning in the Adriatic. This excursion includes a visit to medieval Kotor and Budva and entrance fees are included. Book now!
[Find out how to visit Montenegro independently.]
Croatia Folklore Tour
The colorful Sunday morning folklore show in Cilipi provides a wonderful exploration of Croatian culture. Book now!
[Read more about Cilipi and the Konavle valley
Korcula Island and Wine Tasting
Korcula Island with the old walled town of Korcula is another must on any Adriatic itinerary. It's not so close to Dubrovnik though, so visiting it by ferry in a day is out of the question except for a few days a week in July and August when there are catamarans running (see more). This organized tour allows plenty of time to see the town and enjoy a swim if you like. Book now!
Mljet Day Trip
Limited to only eight people, this intimate tour takes you to and through Mljet Island National Park. You get a guided boat tour of the two inland lakes and a boat trip to tiny Saint Mary island. Book now!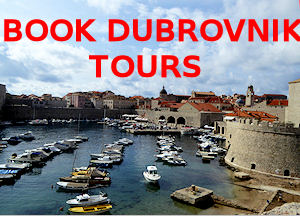 "Taste of Dalmatia": Tour of the Peljesac Peninsula
The Peljesac Peninsula is known for its wine and olive oil. In addition to visiting Orebic and Ston, the tour includes a wine tasting, snacks, and a tour of olive oil production. An oyster lunch is available but not included. Book now!
[What to see on the Peljesac Peninsula]
Dubrovnik Walking Tour
Find out what it all is and what it all means on this tour of Dubrovnik's historic core. This tour includes a knowledgeable local guide and covers all the major sights. Book now!
Sarajevo
This vibrant city is the capital of Bosnia and is steeped in a rich and varied history. The tour includes a stop in Mostar and a look at its famous bridge. Book now!
Sea Kayaking

How about admiring the city walls from the sea and paddling into a natural cave? This paddle leaves from late May to late October. Book now!
Game of Thrones tour
This new tour takes you to the locations used for filming HBO's exciting medieval fantasy series. See the sights in and around Dubrovnik's Old Town in an entirely new way. Book now!
Organised Tours and Excursions
If you have unlimited time and your own wheels you could visit all the above highlights on your own but if your time frame is more cramped I recommend that you book an organised tour.
Booking from an experienced tour operator such as Get Your Guide offers a number of conveniences.
choice of currency
You can pay in US dollars, Australian dollars, British sterling or Euros which can save you money on exchange fees.
hotel pick-ups
You can arrange to be picked up at your hotel, even if you're staying as far away as Cavtat.
low-price guarantee
So you know you're getting your money's worth and cannot find a lower price elsewhere.
Dubrovnik is fast becoming the most visited destination in the Adriatic and summer months can be busy indeed. Do NOT rely on booking an excursion when you arrive in Dubrovnik: they may well be booked out!
10 New Things in Croatia for 2019

From new flights, ferries and hotels to better crowd control in Croatia's most popular destinations, here's what you need to know in 2019. More.

Beat the Heat on the Croatian Coast

It's hot out there! The Croatian coast from Istria to Split and Dubrovnik is sweltering in a heat wave but here are 12 cooling ideas to get you through the summer. More.

Best Outdoor Destinations in Croatia

With eight National Parks and nearly a dozen protected Nature Parks not to mention islands, rivers, mountains, rolling hills and placid seas, Croatia is a paradise for active travellers. Here are the very best destinations to experience the great outdoors. More.

New Split to Dubrovnik Catamaran 2017

Island-hopping in Croatia just got easier! There's a brand new passenger ferry that will connect Split and Dubrovnik via Hvar, Korcula and Bol (Brac island). More.

Visiting Dubrovnik: What's New in 2017

Dubrovnik surprises visitors this year with new flights, hotels, restaurants and even electric scooters but also visitor limits. More.

Subscribe to Dubrovnik News
Recommended Tours
More from Croatia Traveller
Questions? Comments?
©CroatiaTraveller 2005-2019 All rights reserved