Orebic (pronounced or eh bits) is home to Trstenica beach, one of the best beaches in Dalmatia.  It's wide, sandy and usually not overcrowded. On the Peljesac peninsula and only 2.5km across the water from Korcula, Orebic makes a great day trip from Korcula, a quiet place to relax and a good alternative place to stay.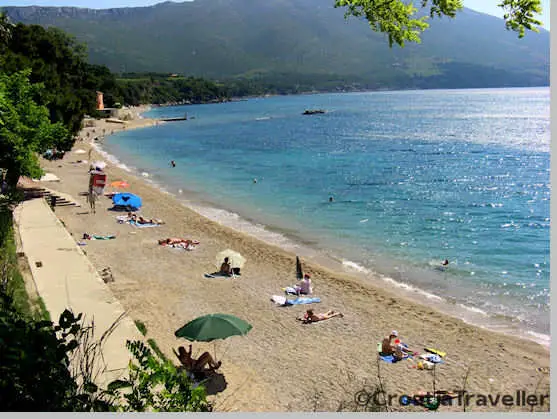 things to See and do
Just outside town are cairns and remains of fortifications dating from prehistoric times. The Romans left traces of a villa, tombs, inscriptions and ceramics. By the 17th century, Orebic reached its zenith as a maritime centre. In fact the town is named after a family of sea captains, the Orebic, who built a citadel against the Turks in the 17th century. In the town and surrounding villages you'll see old houses built by the local sea captains.
Two kilometres west of Orebic is a Franciscan Monastery in Gothic-Renaissance style with a cloister and a 15th century loggia. It's also worth the short climb to the hill over the monastery to see the Church of Our Lady of Karmen. Surrounded by cypress trees the hilltop church offers a magnificent view over Korcula and its archipelago.
There are a couple of museums (the Maritime Museum is particularly interesting) but most people come for the long beach bordering Trstenica cove. The climate is mild as the narrow strip of coast is protected from northern winds by Mt. Ilija. Active travellers can take advantage of the hiking opportunities afforded by Mt Ilija.
Accommodation in Orebic
Four-star hotels in Orebic

Aminess Grand Azur--formerly the "Grand Hotel", renovated with two swimming pools
Villa Antonio--a castle in the vineyards of the Peljesac peninsula
Hotel Indijan --right on the beach
Hotel Bellevue
Boutique Hotel Adriatic--adults only
Three-star hotels in Orebic
Hotel Orsan

Mimbelli Guesthouse --The new Guesthouse Mimbelli's five contemporary rooms, one with a pretty olive tree mural, have exposed stone walls and antique tiles. There's also a top Dalmatian restaurant on site, serving local wines. The town's shallow public beach - which runs the length of Orebić - is across the promenade from the hotel.
Getting to Orebic
If you're staying in Korcula Town, Orebic is just a 15-minute ferry ride away by passenger boat. All buses from Korcula pass through Orebic. If you're driving from the coast, take the Peljesac Bridge and drive to Orebic on the Peljesac peninsula. More on Croatia ferries.
Tourist Information in Orebic
The Orebic Tourist Office (tel 020-713 718) is at Trg Mimbeli in the centre of town.