For a beach holiday on Korcula Island, Lumbarda is the place to go. This little village just six km east of Korcula town is on a tranquil bay with two sandy beaches just outside town. The largest sandy beach is Przina, 1 km southeast of the village. Nearby is pretty Bilin Zal. Both beaches are calm and shallow--great for kids!
Lumbarda is the grape-growing centre of Korcula largely because of the reddish soil that is perfectly adapted to wine production. Inland, are acres of vineyards that produce Grk, the excellent local white wine.
History of Lumbarda
This fertile pocket of land has been settled for ages. Ancient Greek artifacts have been found in and around Lumbarda and the region is still being excavated.
Researchers have also found evidence that the Illyrian tribes had also colonised the region. The low-key allure of Lumbarda attracted prosperous shipbuilders as early as the 16th century who built summer houses called "kastels" around the village. In addition to a long tradition of welcoming visitors, the locals are committed to cultivating grapes, olives and figs.
Accommodation in Lumbarda
In keeping with its laid-back atmosphere, accommodation in Lumbarda is simple and authentic. See more.
Getting to Lumbarda
There are no ferries direct to Lumbarda. See Getting to Korcula Island for information about ferries. From Korcula Town, there are a hourly buses that run to Lumbarda, making it an easy day trip if you don't have your own wheels.
Tourist Information in Lumbarda
The Lumbarda tourist office is in the centre of town near the post office and the bus stop.
Further Resources
All about Korcula in Croatia Traveller's Dalmatia: Split to Dubovnik 2018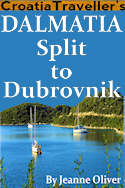 Accommodation
Related Pages
Korcula Island
Korcula Town
Vela Luka
Getting to Korcula
Accommodation
Recommended Tours
More from Croatia Traveller
Questions? Comments?
©CroatiaTraveller 2005-2018 All rights reserved