Forests
The lakes and waterfalls cover only about 1% of Plitvice Lakes National Park. The rest of the 73,350 acres is a varied terrain marked by meadows and dense forests mostly of beech, fir and spruce which cover about 75% of the terrain (see more on flora, fauna and travertine).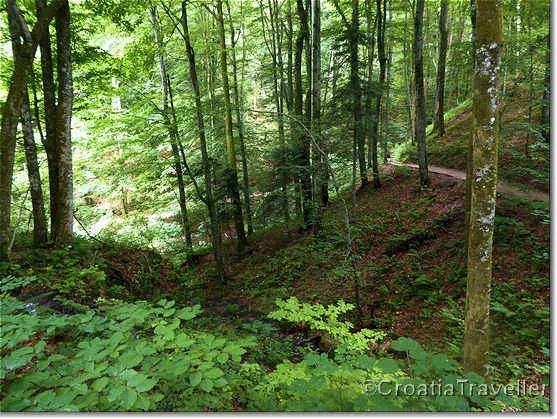 Particularly interesting is Corkova Uvala, a primeval forest where the fir, spruce and beech reach a height of 60m and trees have a diameter of 140cm. This unique ecosystem, in a specially protected zone near the northwestern edge of the park, presents a rare opportunity to experience a forest practically untouched by human activity. There are a number of beautiful and well-marked hikes through the forest.
Caves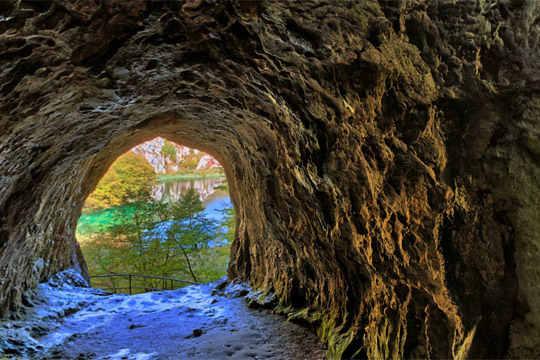 The karstic terrain of Plitvice includes several majestic caves. Supljara Cave is near Entrance I above Kaluderovac Lake on the eastern side. It consists of three chambers and a corridor for a total length of 68m. The first chamber is 20m high and the other two chambers are "decorated" with tufa forms. The upper of the two entrances was made after the cave's ceiling collapsed. The cool (10.5°C), damp, dark environment is hospitable to various cave-loving moths, beetles and scorpions that are found nowhere else.
Also in the Lower Lakes area is Golubnjaca Cave before the second Korana waterfall on the eastern side. The cave has two entrances (46 and 24 m high), a large antechamber and two cave corridors with a total length of 65 m. Rich in flora and fauna, there are 230 steps and a small bridge in the cave.