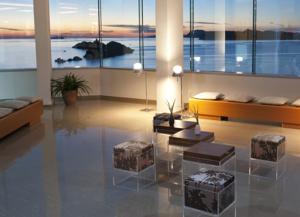 Dubrovnik Palace Hotel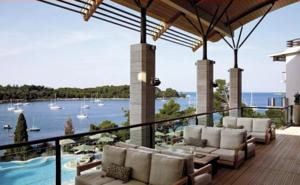 Monte Mulini Hotel, Rovinj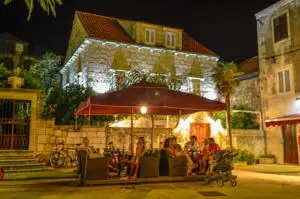 Boutique Guesthouse Mimbelli
A hotel or private accommodation in Croatia?
If you're looking for comfort and convenience, a hotel usually surpasses private accommodation in Croatia. You'll often have the convenience of an in-house restaurant or bar, plus plenty of other nice, little extras. Round-the-clock staffing also provides an extra measure of security. You may enjoy the convenience of a telephone in your room and most hotels also provide internet access (although sometimes at a fee). Hotels also allow the flexibility of a one or two night stay without imposing a surcharge and you can pay by credit card. Breakfast is nearly always included in the rate, and the custom is a buffet breakfast. Private accommodation does not include breakfast, you must pay in cash, there is no telephone, you often must arrange your arrival time in advance, you may pay a steep surcharge for a one or two-night stay.
Booking your hotel in Croatia
Reserve in Advance
July and August: you must reserve in advance if you are staying anywhere on the Istrian or Dalmatian coast or one of Croatia's islands. During these months, last-minute rooms are scarce.

mid-May through June and September through mid-October: I recommend an advance reservation in order to have full choice of hotels.

late October through early May: an advance reservation is usually not necessary except in Zagreb during a trade fair. See more.
How to Reserve
I recommend reserving through Booking.com, (a travel partner of Croatia Traveller). Booking.com handles reservations for over 800 hotels in Croatia at all budgets (not just the most expensive!) including selected private accommodation. There is a low price guarantee; you will not get a lower price booking direct with the hotel. You can see the exact location of the hotel on a map. And, best of all, you can read user reviews written by people who have actually stayed at the hotel (unlike a certain 'advisor of trips' website where reviews can be faked). Check booking.com now.
What to expect from your Croatian hotel
Star System Explained
Croatian hotels are ranked according to a star system that begins with one star (although rare) for shared bath and climbs to five-stars for a luxury experience with all the trimmings (see the ten best hotels in Croatia).
Five-star service is the best available, the furnishings lavish, the in-house restaurants first-rate and you may even avail yourself of an indoor or outdoor swimming pool or sauna or keep in shape at the hotel "trim room". The morning buffet breakfast is a feast and will include fresh fruit, fruit salad, fresh fruit juice, eggs prepared as you like, freshly baked pastries, a full array of cheese and cold cuts and memorable coffee. There will be non-smoking rooms and facilities for the disabled.

Four-star hotels also offer an extremely high level of comfort on only a slightly less exalted level. You'll also have an excellent buffet breakfast and a very good restaurant.

Three-star hotels usually offer beach access (along the coast), air-conditioning, an elevator, satellite TV, telephone and hair dryers. Breakfast is rarely better than adequate although there will be a cold buffet. If there are other meals available, they are also likely to be uninspiring.

Two-star hotels do not have air-conditioning but the rooms are pleasant and well-kept. A bare-bones breakfast (well, not literally) is included but no other meals will be available.

One-star hotels are being phased out but the few that remain are basically hostels with shared bath.
Service
The explosion of four and five-star hotels in Croatia has put a lot of pressure on Croatia's system for training staff. At the moment, there's more demand for highly-professional personnel than there are people to fill them. As a result, you may often feel that the service staff, even in the top hotels, is more enthusiastic than polished.
   How much does a hotel cost?
Remember that prices in most hotels vary by season. In high season, expect to pay €210-600 a room in a five-star hotel; €182-240 for four-star comfort; €125-265 for a three-star room and €90-110 for two stars The higher prices are for rooms with a sea view.Prices drop by about a third May-June and September-October and often by another 20% or so the rest of the year.
Recommended Experiences
More from Croatia Traveller
My Favorite Travel Accessories
©CroatiaTraveller 2005-2022 All rights reserved