The rooms and apartments that make up private accommodation in Rovinj are evaluated and ranked, just like hotels. Star ratings are given based on amenities like flat-screen TVs, room size and decor, fitness facilities, air conditioning and balconies.
In terms of facilities and decor, there is no difference between four-star hotels and four-star apartments. The major difference is that hotels accept credit cards and owners of private accommodation do not accept credit cards. Payment is cash only. Also, hotels have 24-hour staff on duty while in private accommodation you get the keys and can come and go on your own. That's not to say you won't get help! Most owners of private accommodation are delighted to help you settle in and get the most out of your stay. As there are no receptionists and bellhops, it's advisable to contact the owner before arrival and arrange a meeting time. Let them know if you need help with parking, luggage or other special requests. Bear in mind that Rovinj Old Town is pedestrian only; parking is outside of town.
Five-Star Apartments
Apartments Ana Wellness
With a wellness centre, these are truly luxury apartments
Four-Star Apartments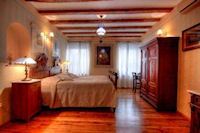 Casa Garzotto
Location: Old Town
These studio apartments are lushly outfitted and there's a sauna available in addition to other services. Free parking. Book now
Villa Ernesta
Pretty and in the Old Town
Villa Markiz
Stylish and in the Old Town
Apartments Casa Saina
Between the Old Town and Zlatni Rt
Apartments Elida
In a residential neighbourhood
Three-Star Apartments
Apartments Ema
In a residential neighbourhood a 10-minute walk from the Old Town
Trevisol Apartments
Modern and with sea view in the Old Town.
Apartments Cvek
In a residential neighbourhood.
Apartment and Rooms Robert
In a residential neighbourhood.
Apartments Bella
In a residential neighbourhood with views of the sea and the Old Town
Old Town Apartments
Like the name says.
Apartments Romano
In a residential neighbourhood near the beach.
Residence La Carera
Just outside the Old Town.
Apartmani Taylor
A traditional house in the Old Town
Apartments Villa Mara
A quiet residential neighbourhood.
Villa Rossella
Near the beach and with a pool
Two-Star Apartments
Apartmenti Anka
In a residential neighbourhood near a beach
Apartments La Pergola
In a residential neighbourhood near Zlatni Rt.