Croatia is known for its wonderful campsites, attractively located and well-equipped. It's hard to complain when you wake up under the pines and look out at the sparkling Mediterranean. And now campsites are much more elaborate than just a pretty spot to pitch a tent. There are mobile homes, chalets, bungalows and "glamping". Glamping combines the glamour of a hotel--luxurious amenities, beautiful decor, modern conveniences--with the peace and tranquility of living close to nature.
Whether glamping in a tent or a mobile home, it's a great environment for kids. You'll usually find playgrounds, swimming pools and a range of activities to keep the whole family occupied. You will need a car to access campgrounds though. None are on public transport lines.
Camping Arena Pomer
Pula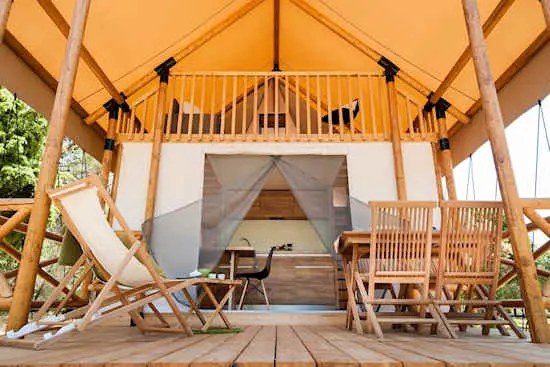 This brand-new campsite 10km from Pula in the town of Medelin is glamping at its best. It's so close to the sea you can practically stick your toes out of the air-conditioned tent and into the water. All amenities--flat screen TV, luxury toiletries, walk-in shower, free WiFi--are present and accounted for. The on-site spa and wellness center offer massages, saunas and other feel-good activities. The restaurant is excellent and there's a playground for the kiddies. More.
Part of the Bi-Village coastal resort in Fazana, Glamping Lavanda offers luxuriously outfitted air-conditioned tents near the beach. Glampers will love the rustic decor, fully-equipped kitchen, free WiFi and terrace. The resort has outdoor swimming pools, a wealth of dining options, kids activities and an on-site spa all within a leafy Mediterranean setting. Just offshore is the Brijuni Islands National Park. More.
Mobile Homes Camping Park Umag
Umag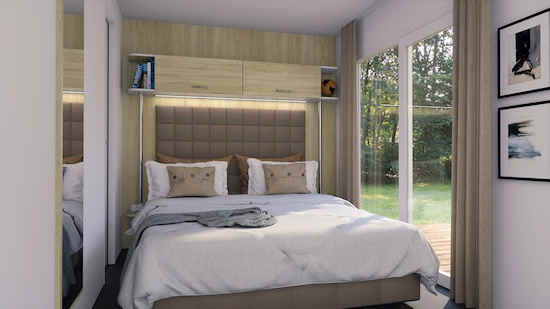 This luxury four-star camping resort is the largest in Istria. Yet the mobile homes offer a high degree of comfort and privacy. Each one has a fully-equipped kitchen, air-conditioning, free WiFi and satellite tv. There are plenty of restaurants and bars plus nearly every sports activity you can name including tennis courts, mini-golf, cycling, scuba diving and fitness facilities. More.
Also in Umag is CampingIN Finida, a smaller site that also boasts four-star status.

The giant Camping Lanterna is a city unto itself with a wide variety of accommodation from mobile homes to glamping. Only steps from the beach, this resort has just installed a giant waterpark with four swimming pools, water slides and a pirate ship. Kids will love it! More.
For more in Porec, try Bijela Uvala which offers safari tents and fully equipped mobile homes within a sprawling resort.
Rovinj Bell Tents
Rovinj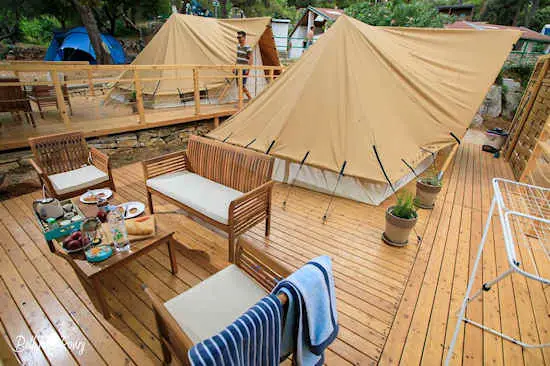 Part of the large Porton Biondi, Bell Tents Rovinj is for campers looking to upgrade. The rustic tents are outfitted with a minibar, bed linen and a kettle but best of all is the spacious patio, perfect for relaxing over cocktails. For more comfort, try the mobile homes.
Also near Rovinj in peaceful Bale, try Mobile Homes Mon Perin which features comfortable mobile homes of all sizes, many with terraces and sea views.
Camping Poljana
Mali Losinj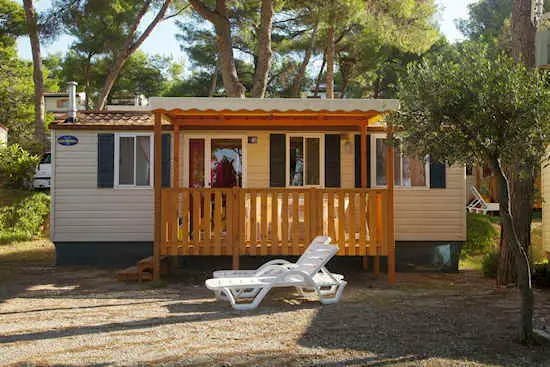 The stunning location on a quiet cove with a pebbly beach is part of the appeal of this campsite. The water is so appealing that it's become a favourite with the local dolphin population; a dolphin reserve is right offshore. Holding up to 1500 people on its 37 acres, most of the site is shaded by tall pines. It's a great spot for diving and other watersports plus there's tennis, boats and bikes for rent, children's playgrounds and activities, WiFi access and more. You don't need to come with a tent or camper; you can rent a mobile home or bungalow. More.
Glamping Cikat Losinj
Mali Losinj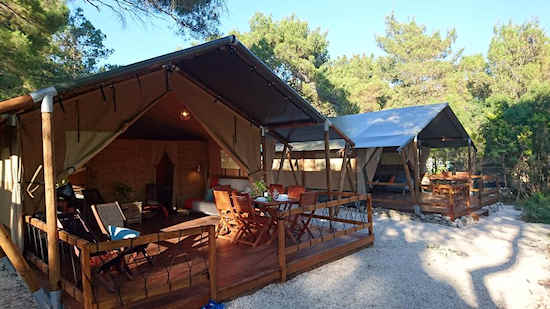 Just outside Mali Losinj on Losinj island is gorgeous Cikat bay, a favorite of windsurfers, beach bathers and anyone entranced by the beauty of a pine-fringed beach. Nestled beneath the pine trees of Cikat forest is Camping Cikat and the rustic but comfortable safari-style tents. Each unit has a kitchen and terrace with sanitary facilities right nearby. More.

Camp Kovacine,
Cres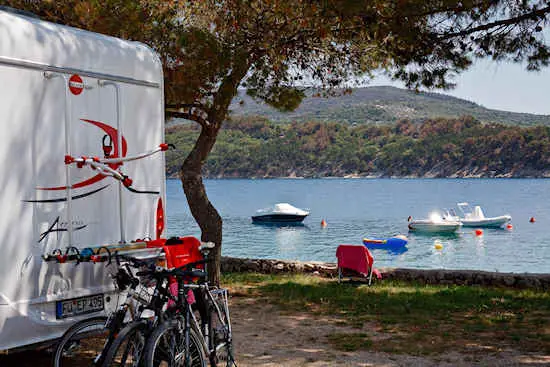 Quiet Cres is a great place to get away from it all and here you can be peaceful or active; it's up to you. Spread over 57 acres and holding up to 2900 people, the daytime activities include scuba diving, paragliding, beach volley, swimming from the pebbly beaches and excursions to visit the highlights of Cres Island. At night there are cocktail bars, live music, grill parties, beach parties and children's activities. You can also rent a mobile home or rooms in an on-site house.
Luxury Glamping Tents
Primosten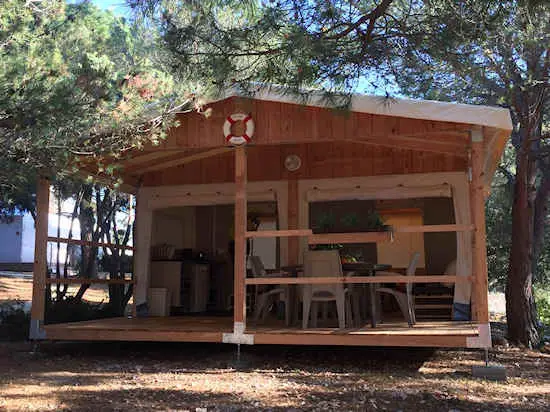 Spread over 30 acres and holding up to 1600 people, the Adriatiq Autocamp has a 1.5km long pebble beach with shallow waters for children and rocky coves for private sunbathing. Sailing and tennis facilities are within 2km and you can rent a scooter or boat to explore this part of central Dalmatia. There's also plenty of daytime and evening entertainment for children and adults. The luxury glamping tents within the camp have terraces and a fully-equipped kitchen. More.
Mobile Homes Soline
Biograd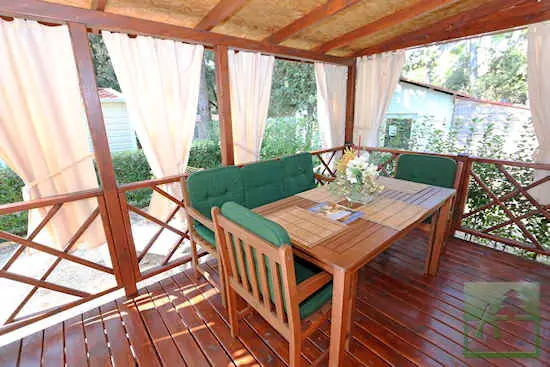 These air-conditioned units two kilometres from Biograd are attractive and elegant. Located right next to a beach, there is swimming, diving, water skiing and kayaking. On dry land, why not rent a bike and pedal around? More.

Zaton Holiday Resort
Nin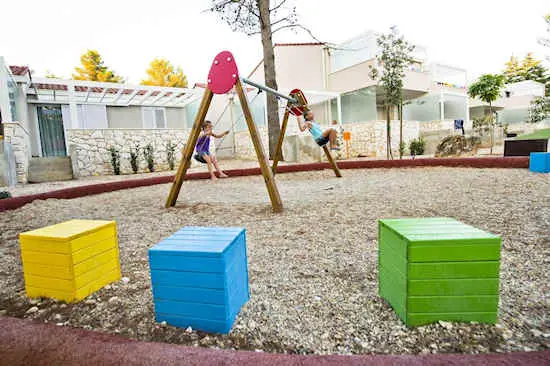 Perhaps Croatia's most celebrated campsite, Zaton is practically a country unto itself. Only 16km north of Zadar, this site covers 247 acres and holds up to 7000 people. Plus, it boasts one of the rare sandy beaches in the region. There's little you can't do in Zaton. There's a vast choice of restaurants, outdoor heated swimming pools, wellness facilities and an exhausting array of sports possibilities. At night, there are activities for all ages plus a disco only a kilometre away. No caravan or tent? No problem. You can rent air-conditioned bungalows or mobile homes. More.
Obonjan Island Resort
Obonjan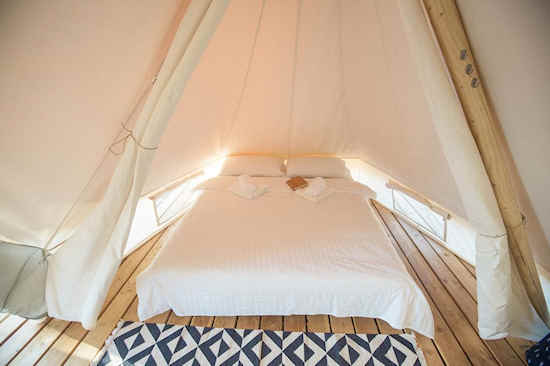 Located in the Sibenik archipelago, Obonjan is a 136-acre private island that has became known for its new-agey summer vibe. From June to September the island's summer music festival imports DJs and various musical acts to keep the nightlife sizzling. During the day there are yoga classes, wellness workshops and and courses in self-improvement. The eco-friendly air-conditioned tents have outlets and bed lamps but meals are taken in one of the restaurants or bars. There is one daily ferry from Sibenik to Obonjan during the season. More.