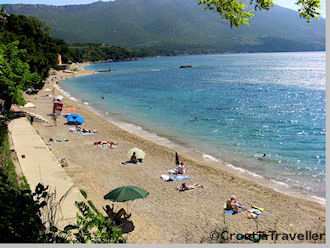 Trstenica beach & campsite


Croatia is known for its wonderful campsites, attractively located and well-equipped. It's hard to complain when you wake up under the pines and look out at the sparkling Mediterranean. Yet some camping grounds are true stand-outs for the quality of the services and the level of comfort on offer. The following award-winning campsites have been highly rated by the British Alan Rogers guides, the Dutch ANWB guides or the German ADAC guides. According to them, here are Croatia's 10 best campsites:
Campsite Park Umag
Holder of the most "best campsite" titles, more. . .
Finida, Umag
Here is a much quieter experience, more. . .
Mobile Homes Park Umag: This luxury four-star camping resort offers mobile homes with air-conditioning and satellite tv. Stay here and avail yourself of three swimming pools and free internet access. more. . .
Stella Maris, Savudrija
This campsite is smallish, more. . .
Lanterna, near Novigrad.
Sporty types will love this campsite, more. . .
Polaris, Rovinj
This all-purpose family camping resort covers 148 acres, more. . .
Bijela Uvala, Porec
For active holidays, it would be hard to beat this campsite, more. . .
Campsite Poljana, Mali Losinj
The stunning location on a quiet cove with a pebbly beach is part of the appeal of this campsite. The water is so appealing that it's become a favourite with the local dolphin population; a dolphin reserve is right offshore. Holding up to 1500 people on its 37 acres, most of the site is shaded by tall pines. It's a great spot for diving and other watersports plus there's tennis, boats and bikes for rent, children's playgrounds and activities, WiFi access and more. You don't need to come with a tent or camper; you can rent a mobile home or bungalow.
Camp Kovacine, Cres
Quiet Cres is a great place to get away from it all and here you can be peaceful or active; it's up to you. Spread over 57 acres and holding up to 2900 people, the daytime activities include scuba diving, paragliding, beach volley, swimming from the pebbly beaches and excursions to visit the highlights of Cres Island. At night there are cocktail bars, live music, grill parties, beach parties and children's activities. You can also rent a mobile home or rooms in an on-site house.
Camping Adriatic, Primosten
Spread over 30 acres and holding up to 1600 people, this campsite has a 1.5km long pebble beach with shallow waters for children and rocky coves for private sunbathing. Sailing and tennis facilities are within 2km and you can rent a scooter or boat to explore this part of central Dalmatia. There's also plenty of daytime and evening entertainment for children and adults.
Mobile Homes Soline, Biograd
These air-conditioned units are attractive and elegant. Located right next to a beach, there is swimming, diving, water skiing and kayaking. On dry land, why not rent a bike and pedal around? Online booking.

Zaton, Nin
Perhaps Croatia's most celebrated campsite, Zaton is practically a country unto itself. Only 16km north of Zadar, this site covers 247 acres and holds up to 7000 people. Plus, it boasts one of the rare sandy beaches in the region. There's little you can't do in Zaton. There's a vast choice of restaurants, outdoor heated swimming pools, wellness facilities and an exhausting array of sports possibilities. At night, there are activities for all ages plus a disco only a kilometre away. No caravan or tent? No problem. You can rent air-conditioned bungalows or mobile homes.
Questions? Comments?
©CroatiaTraveller 2005-2017 All rights reserved