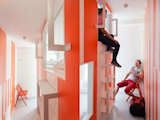 Boutique Hostel Forum
One of the best hostels
in Croatia
Cheap hotels are a rarity in Zadar although there are some excellent hostels. In fact, there's a great new "design hostel" in central Zadar that is one of the best hostels in Croatia. The Boutique Hostel Forum can accommodate backpackers in 4-bed dorms or couples in remarkably-designed doubles that offer incredible value for money. See my review or book now.
Staying in central Zadar is obviously the best choice for those wishing to soak up Zadar's great nightlife, restaurants and sights.
Four Corners Hostel is another reasonably priced privately-run hostel in central Zadar. Another good option is the aptly-named The Hostel right across the bridge from the old town. Near the bus station is the Sweet Dreams which offers doubles with en suite facilities as well as dorm arrangements. A new hostel near the beach and train station, Hostel Kolovare, is worth a try for its quiet location.
Out in Borik (5km from central Zadar) there's the official HI youth hostel which is right on the water. Bus connections to town are frequent.
For Zadar on a budget, you'll have even more choices in private accommodation.