To stay in a Zadar four-star hotel you have a choice between an urban experience and a resort experience. If your primary goal is visiting the sights of Zadar, it's best to stay in town unless you have a car. For a more restful experience with some beach activity thrown in, stay outside of town. Borik is about 4km from the town centre. Punta Skala is a resort community about 15km northwest of Zadar. For more, see Zadar Accommodation.
Four Star Hotels in Zadar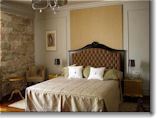 Hotel Bastion
Right in the center of town the Hotel Bastion is thoroughly four-star. The spa, jacuzzi, wellness center, sauna is a real plus and there's an on-site restaurant.
Hotel Kalelarga
This new four-star hotel offers a super location in the heart of town. The restoration of this ancient building has been made with loving good taste, blending modern technology and a soft, welcoming decor.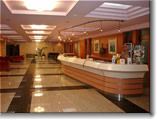 Hotel Kolovare
The location is pretty good as the hotel is just outside the town gates. It's also within walking distance of the train station (hence the name, kolovare) and has an outdoor swimming pool.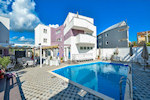 Also near the train station and a much better deal is this brand-new four-star hotel with a swimming pool. Some rooms have a sitting area or a terrace.
Four Star Hotels Around Zadar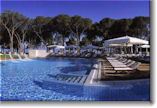 Hotel Adriana Select
It's a lifestyle hotel and definitely the best of the bunch in Borik. The clean, modern design and "Hollywood pool" lend this hotel a romantic air of elegance.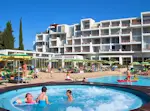 Club Funimation
This family hotel in Borik is a water wonderland with pools, saunas, spas, jacuzzis and myriad other entertainments. It's a great family hotel and it's all inclusive.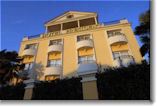 Hotel President
After a recent renovation, this hotel finally lives up to its exalted name. With individually crafted furniture, the interior design is a standout and there's a beach right nearby.
Family Hotel Diadora
Yes it is a family hotel and it's first rate. Located in Punta Skala, this hotel is near the beach and can provide a whirlwind of activities for the young'uns. Adults will like the sleek design and modern wellness facilities.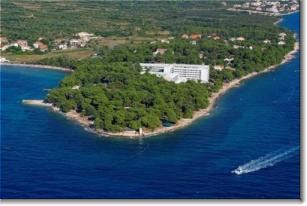 Hotel Pinija
This four-star hotel is located in the midst of a pine-studded peninsula, right outside Petrcane. In addition to the beach, there are indoor and outdoor pools plus a wellness facility.