About 30km north of Pag Town on Pag Island, Novalja is a town and port that has now become one of the top summer party spots in Europe. Although once a simple fishing village, the town has expanded dramatically to accommodate the influx of partiers. There's been a tremendous amount of new construction, mostly involving apartments, snack spots and shops for beachwear. There's little to see or do in town except shop and stroll but only a couple of kilometres away is the legendary Zrce beach.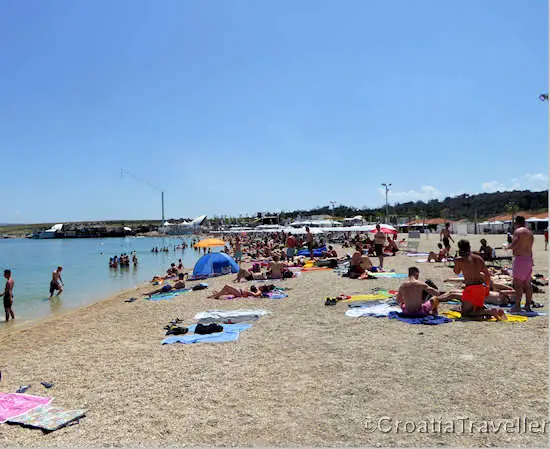 Zrce Beach Music Festivals
There's a reason why everyone comes to Zrce beach. The wide, shingle beach curving around a shallow bay creates a stunning backdrop to a series of music festivals throughout the summer.
The best known is the Hideout Festival in late June which features the best of underground dance music. Full lineup, transport and ticket sales for the Hideout Festival.
Also world-famous is Fresh Island Festival, the only hip-hop festival in southern Europe. Full lineup, transport and ticket sales for the Fresh Island Festival
A close runner-up would be the Sonus Festival in late August, a massively popular dance party with renowned DJs. Full lineup, transport and ticket sales.
And don't forget Spring Break Europe in early June, Hard Island in early July, Area 4 in mid-July, followed by Loveweek.
Party Spots on Zrce Beach
Most of the action centers around Aquarius, Kalypso, Papaya Club or Noa Beach Club, one of Croatia's best beach clubs with a pool, five bars, a dance floor and a workout area.
For more sedate pleasures, try the Novalja Feast of St Anthony on June 13 which kicks off several days of concerts including klapa singing, folk songs, classical music and more.
[Find out about accommodation on Pag Island]
Getting to Novalja
Novalja is a straightforward drive across Pag island from the causeway connecting it to the mainland near Zadar. Also, Jadrolinija runs a daily 3pm passenger boat from Rijeka stopping at Rab town.
Another option is a new service that connects Novalja with Rijeka with Zadar, stopping at Krk and Lopar (Rab island) daily from 15 June to 15 September. The service is handled by G&VLine Jadera. Timetables and booking information is available on the website.
Or, take a day trip to Zrce beach from Split in a luxury minibus.
Regular island buses connect Novalja with Pag town. The music festivals also run shuttle buses between Novalja and Zrce beach to supplement the spotty local service.
Tourist Information in Novalja
In Novalja, the tourist office (tel 023-663 570) is at Setaliste Hrvatskih Mornar 1.