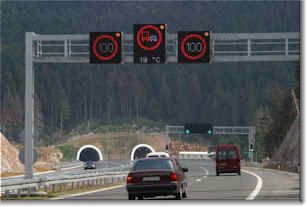 A long-awaited motorway connecting Zagreb and Zadar has shortened travel time between the two cities to a mere 2 1/2 to 3 hours. Eventually that motorway may run as far south as Dubrovnik and maybe even beyond. Travel time will be much shorter but no way will it be as scenic as the winding, sometimes scary coastal road. As you head south from Zadar to Split on the coastal road, you'll pass lots of less-than-pretty coastal development but hold on! It gets better about an hour out of town. Of course, you can bypass the coastal road by taking the motorway from Zadar to south of Split where it ends.
From Istria you can get on the motorway near Rijeka which will get you to Zadar in about three hours.
Car Rental in Zadar
Nearly all car rental companies in Croatia have an outlet in Zadar town or at Zadar airport. I find that EconomyCarRentals usually has the best deals.