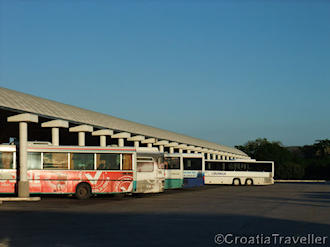 Find Car Rentals
Zadar's bus station is a busy place as nearly every bus travelling up or down the Croatian coast stops at Zadar. Although a short walk to the town's southern entrance (see the map below), it can be more convenient to hop on a local bus, particularly if you need to get into Zadar's historical centre. Local buses 2 or 4 run the length of the northeastern and southwestern quays with entrances into the pedestrianized old town along the way.
There are frequent buses from Zadar to Rijeka (4 1/2 hours), Split (3 hours) Dubrovnik (6 1/2 hours, see the schedule at buses from Dubrovnik), Pula (7 hours) and Zagreb (4 to 5 hours). Some buses from Zagreb stop at Plitvice Lakes National Park allowing time for a quick visit.
There is online booking for Zadar buses at Bookaway.
Of course, nothing beats the convenience of having your own car. Although the old town is pedestrian only, there's a fair amount of parking outside the northeastern walls along the port.
Map
Last Updated September 6, 2021