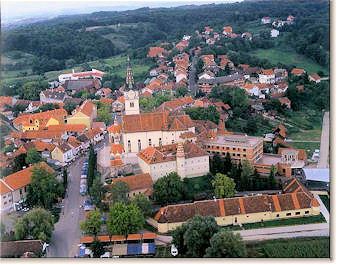 The red-roofed village of Marija Bistrica on the slopes of Medvednica mountain in Krapina-Zagorje county is the largest and most important pilgrimage site in Croatia. The focus of interest is the parish church which has a 16th-century wooden statue of the Madonna called "Our Lady of Bistrica". The statue is believed to have miraculous powers as it was not destroyed during later attacks by the Turks.
Although the original parish church dates back to 1334, it was rebuilt between 1879 and 1882. The Viennese architect grafted a neo-Renaissance style onto the old foundations, designed new arcades and enlarged the rectory. Religious paintings and sculptures were also added. During the rebuilding another miracle occurred when a fire destroyed the entire interior of the church except the altar and the miraculous statue of the Madonna.
The shrine in this scenic village attracts up to 800,000 visitors a year, many of whom mount the "Way of the Cross" behind the church. This arrangement of the 14 stations of the cross is adorned with sculptures created by Croatian artists and leads to Calvary Hill.
Even with all the attention it receives, the shrine's biggest celebration occurred in 1998 when Pope John Paul II visited to beatify Croatian Archbishop Stepinac.
A visit to Marija Bistrica is also interesting for the display of traditional Croatian crafts. Wishing to encourage tourists to stay after visiting the shrine, the tourist office has funded the development of crafts such as wooden toys, pottery, gingerbread and candles. It's a great place to pick up traditional Croatian souvenirs!
Accommodation in Marija Bistrica
A recently-opened four star hotel, Bluesun Hotel Kaj, has made a visit to Marija Bistrica much more enticing even for those whose religion is more epicurean than Christian. The hotel restaurant is headed by a top-class chef and the wine list includes more than 200 varieties.
Getting to Marija Bistrica
By car
Marija Bistrica is about 37km northeast of Zagreb along route 29. See a map and driving directions to Marija Bistrica.
By bus
From Zagreb's central bus station, buses leave about every hour (fewer on Sunday) for the 40-minute drive.
Marija Bistrica Tourist Information
The tourist office of Marija Bistrica is in the town centre at Zagrabacka bb