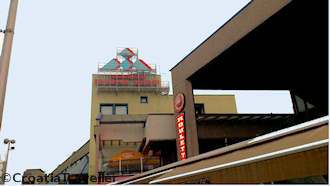 Zagreb bus station
Zagreb
bus station
(
Autobusni Kolodvor
) is a large structure that would never win any architectural prizes but has all you need to facilitate your arrival and departure.
(See the bus station on a street map of Zagreb)
Built in 1987, it's all concrete and sharp angles but it has enough space for 88 terminals handling all international and domestic buses from Zagreb.
The Zagreb bus station is also where you get the bus to the Zagreb Airport.
Hours
The bus station is open 24 hours a day, 7 days a week.
Left Luggage
The left luggage office in the Zagreb bus station is open 24/7. The price is 5Kn per hour for the first four hours and 2.50Kn for each hour thereafter. Items like skis and bikes are charged 10Kn per hour. You'll need to produce ID of some sort--usually a passport.
Getting to the Bus Station
Trams 2, 3, and 6 run from the bus station to the train station (about 10 minutes) with tram 6 continuing to the town centre. (see Zagreb's Tram Map and more about getting around Zagreb).
Accommodation
Staying near the bus station can be extraordinarily convenient if you need a quick jaunt to the airport. Check out:
Hotel 9
This four-star boutique hotel offers extraordinary style and panache.
Meridijan 16
Small and new, this place offers good, simple rooms
Currency Exchange
There's an ATM in the bus station as well as a currency exchange office.
Phones
There are public phones in the bus station and you can buy a phone card at the tisak (newspaper kiosk).
Parking
The bus station parking lot is outdoors and costs 7Kn per hour (84Kn per day).
Stores
There's no sit-down restaurant in the bus station but you can buy snacks, soft drinks and basic groceries. You can also buy international newspapers and a phone card.
Last updated November 5, 2014
Recommended Tours
More from Croatia Traveller
Questions? Comments?
©CroatiaTraveller 2005-2018 All rights reserved