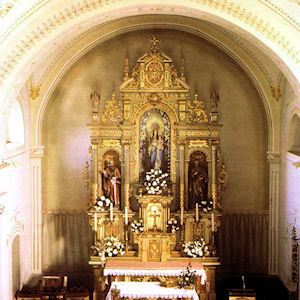 Aljmas shrine
Catholic travellers to Croatia will feel right at home. Croatia is predominantly Catholic and offers a wealth of churches and cathedrals replete with reliquaries and holy objects. One of the more unusual is the selection of mummified saints in Vodnjan. In addition there are several powerful pilgrimage sites dedicated to the Virgin Mary that attract pilgrims from around the world. Although these sites are busy all year, there's a big spike on the Feast of the Assumption, 15 August. Hotels will be at a premium and access could be difficult.
Marian Shrines
Marija Bistrica
Just a short trip from Zagreb, this is the most important pilgrimage destination in Croatia and the country's largest Marian shrine, attracting some 800,000 pilgrims annually. The statue of Mary allegedly has miraculous powers and the natural setting is stunning. Read more.
Trsat Castle
Right outside Rijeka, the shrine here was the site of a 13th-century miracle when angels allegedly transferred the Nazareth Tabernacle here for three years. Perched on a hill, the castle affords lovely views over the Kvarner coast. Read more.
Aljmas
In eastern Croatia on the banks of the river Danube, lies this Marian shrine that dates from 1704. Lying on the faultlines of the former Yugoslavia, the church was destroyed during the last war but was rebuilt in 2003 and now attracts some 200,000 pilgrims a year. Read more.
Medjugorje
It's in Bosnia, not Croatia, but this miraculous site is easily reachable from Split.
Other Religious Sites
The Franciscan order has long been established in Croatia. The following Franciscan monasteries are exceptional:
Franciscan Monastery at Visovac
In the middle of the stunning Krka Waterfalls National Park, this island monastery is still tended by Franciscan monks who protect a museum of historical treasures.
Franciscan Monastery at Dubrovnik
This is the most architecturally striking of all the Franciscan monasteries in Croatia.
Related Pages