Whether your appetite is for Old Masters, old bones, old stones or the tribulations of the romantically deprived, Zagreb has something for you. Just don't plan to museum-hop on Monday when nearly all are closed. You'll notice that there are three main museum locations: in the winding streets of the Upper Town; around Zrinjevac park which links the train station with central Zagreb; and around Marshal Tito square in the western portion of the Lower Town. It's wise to organize your museum visits by location as the three areas are at a fair distance from each other. See a map of Zagreb.
ART MUSEUMS
Strossmayer Gallery of Old Masters (closed Monday) This stately museum houses the 19th-century art collection of Bishop Strossmayer augmented by several other important donations. European painting from the 14th to 19th century are on display including Fra Angelico, Giovanni Bellini, El Greco, Jacob van Ruisdael, Veronese, Tiepolo.
Tram: 6
Stop: Zrinjevac
Mimara Museum (closed Monday) Zagreb's showpiece museum claims archaeological artifacts, art objects and a collection of Old Masters. But what percentage are fakes? Hard to know. More.

Museum of Arts and Crafts (closed Monday) Similar to the Victoria and Albert Museum in London but smaller, this delightful museum traces the history of furniture and glass. There are also several Old Masters and some excellent Gothic and baroque sculpture.
Tram: 12, 13, 14, 17
Stop: Marshall Tito Square
Gallery of Modern Art (closed Monday) Croatian 19th-century masters such as Vlaho Bukovac Celestin Medovic and Nikola Masic make this museum an essential stop in tracing the development of Croatian art which evolved from the work of this trio.
Tram: 6
Stop: Zrinjevac
Galerija Klovicevi Dvori Housed in a former Jesuit Monastery, this museum is the place to see the stars of international art in a series of changing exhibitions. In addition to prominent Croatian artists, Picasso and Chagall have drawn crowds.
Tram Stop: Trg Jelacica
Mestrovic Studio (closed Monday) Croatia's own world-renowned artist, Ivan Mestrovic, lived and worked here from 1922 to 1942. He even designed part of the studio and its furniture and then bequeathed it to the city along with some 300 sculptures in bronze, wood, stone and plaster.
Tram Stop: Trg Jelacica
Croatian Museum of Naive Art Founded in 1952 as the world's first Naive Art museum, this appealing museum showcases some 1500 works including those by acknowledged masters Generalic, Mraz, Virius and Smaljic. CLOSED UNTIL FURTHER NOTICE.
Tram Stop: Trg Jelacica
Outskirts
Museum of Contemporary Art (closed Monday). Zagreb's newest art museum opened to great fanfare in 2010. It's a great space to catch up with the latest in Croatian art, photography, sculpture and multimedia.
Tram: 6, 7, 14
Stop: Sopot
HISTORICAL MUSEUMS
Lower Town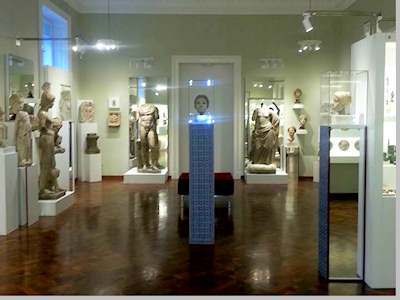 Archaeological Museum (closed Monday) This museum boasts a significant collection of classical antiquities, primarily from the Roman period. Some 40,000 objects are on display including 1500 Greek vases. Most intriguing is an Egyptian mummy wrapped in linen cloth inscribed with an Etruscan manuscript.
Tram: 6
Stop: Zrinjevac
Ethnographic Museum (closed Monday) Part of the pleasure of a visit to this museum is the domed Secessionist building dating from 1904 that houses the collections. From cattle-breeding and winemaking tools to pottery, gingerbread and candles, the collections offer a window onto the world of work in rural Croatia.
Tram: 12, 13, 14, 17
Stop: Marshall Tito Square
Upper Town
Zagreb City Museum (closed Monday) Housed in a converted 18th-century convent, this museum presents the turbulent history of Zagreb from its origins as a hilltop town to the present day, passing through the Austro-Hungarian epoch.
Tram Stop: Trg Jelacica
Croatian Natural History Museum (closed Monday) Croatia's flora and fauna, prehistoric bones and implements, rocks, minerals and herbs are all on display.
Tram Stop: Trg Jelacica
OFFBEAT MUSEUMS
Museum of Broken Relationships This highly innovative museum displays objects culled from victims of broken relationships. Whether a matchbox or an axe, each objects comes with a story explaining its significance in the doomed romance. Book a ticket now and skip the line.
Tram Stop: Trg Jelacica
Museum of Blindness (closed Sat, Sun) This museum celebrates the achievments of the visually impaired including artwork made by blind sculptors as well as exhibiting tools and methods of rehabilitation and education of the blind. Interactive exhibits allow sighted people to experience life with a visual disability.
Tram: 2, 4, 6, 9, 13
Stop: Branimirova