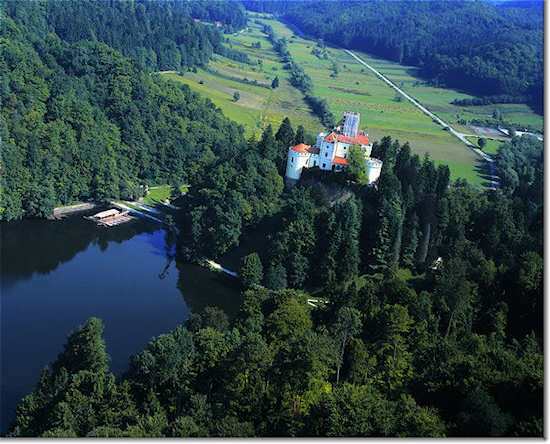 CNTB:©Milan Babic
Trakoscan castle is certainly Croatia's most romantic castle and makes a wonderful day trip from Zagreb.  It had been the refuge of the aristocratic Draskovic family in the 16th century but it was probably constructed in the 12th or 13th centuries.
The first Draskovic occupant, Juraj Draskovic was ruthless with the peasantry which sparked a historic rebellion in 1573. The property then passed to his brother and the castle remained in the Draskovic family until 1944. During most of that period the castle was uninhabited but it was overhauled in the 19th century in a neo-Gothic style. At that time romantic fairytale castles were in vogue and the castle was outfitted with an English-style garden park and an artificial lake.
The shadowy interior, furnished in heavy wood and solemn portraits of the Draskovic family, vividly evokes medieval aristocratic life.
A visit would not be complete without a leisurely walk around the lake and through the park.
Getting There
There are buses from Varazdin but not Zagreb.
Practical Information
Opening Hours:
Summertime (1st Apr-31st Oct) 9-18 pm
Winter (Nov 1st-31st Mar) 9-16 pm
Ticket prices:
Adults 30.00 kn
Children 15.00 kn