On the southern coast of Brac Island, Bol is a secluded harbour town near famous Zlatni Rat beach, one of the Adriatic's most distinctive beaches and one of the best beaches in Croatia.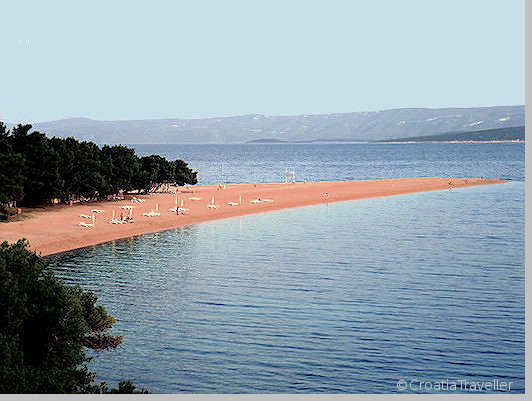 The pebble cape stretches into the open sea like a finger whose tip changes form according to the direction of the wind and waves. A mile long promenade shaded by pines links Zlatni Rat beach with Bol harbour making a particularly pleasant walk.     
Archaeological finds confirm that the area was inhabited in Roman times. Evidence suggests that Bol was destroyed by Arabs in 872. In the port is a 15th-century palace with decorated Gothic windows in its southern facade, and there are also two Renaissance citadels. A fortification near the coast is from the 17th century. On the ridge of Glavica, on the eastern side of the village, is a Dominican monastery from 1475 with a 15th-century Gothic church. On the panelled ceiling are illusionistic paintings by the local Baroque artist Tripo Kokolja. In the gallery is a painting from the Tintoretto school.
Bol town is really a village stretched along the harbour. The seaside promenade gets crowded in Bol's short summer season that runs from mid-June through August. The rest of the year it slumbers.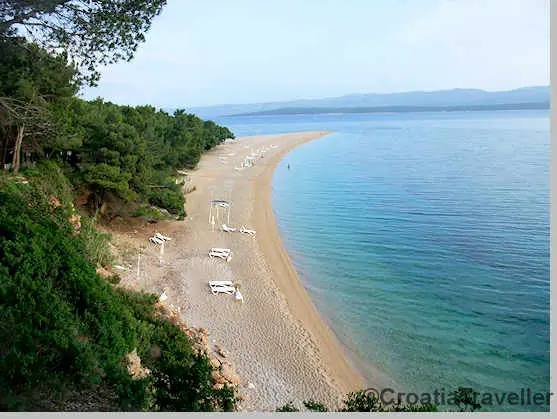 The nearby Vidova Gora mountain offers walking and hiking opportunities.
Getting to Bol
Car ferry
The Split-Supetar car ferry runs all year, making it the easiest solution out of season. Drivers can rent a car in Split, take the car ferry to Supetar and drive to Bol. (see the Split-Supetar ferry schedule)
Foot passengers on the car ferry can take one of the local buses to Bol from Supetar. Buses meet all ferries and take around 1 1/4 hours to reach Bol. The bus from Supetar drops you off in or just outside of Bol town. If you're staying near Zlatni Rat beach, it's about a 20-minute walk to your hotel.
Passenger ferries
Split-Bol-Jelsa runs all year but the timings are inconvenient for a day trip
Dubrovnik-Korcula-Hvar-Bol-Split daily from June through September
Split-Bol runs daily summer only
Split-Bol-Hvar-Korcula-Mljet-Dubrovnik
[For more on getting to Bol, see Brac Island.]
Accommodation in Bol
Bol is a resort destination with a wide choice of hotels, apartments, B&Bs and villas. The season is short in Bol which means that outside of July and August you can find some excellent deals. Nor is staying near Zlatni Rat beach a problem. Accommodation owners can provide a transfer from the town center on request.
Find out more about hotels and private accommodation on Brac Island.
Tourist Information in Bol
The Bol tourist office (tel 021-635 693) is at the edge of town at Nazora 18.