Last minute deals on Split hotels. Book now!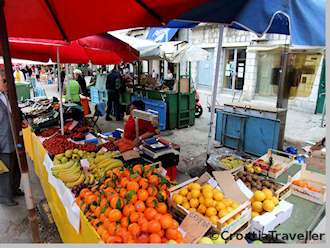 Split
's
daily market
is a sight worth seeing, whether or not you want to buy anything. Just steps from the ferry wharf and the bus terminal, this busy market is open daily from 7am to 1pm. Not only will you find the best deals on fruit, vegetables, olive oil, local brandies and other edibles and drinkables but there are tables of tools, utensils, clothes, boot, electronica and other odds and ends. Mostly frequented by locals, this market attracts plenty of rural people who come to sell their wares.
Also worth a look is Split's fish market (open 8am to 10am) where the local fishermen proudly display the night's catch to the fish-loving populace. It's outside the walls of Diocletian's Palace just east of Marmontova. (see a street map of Split)
In the basement halls of Diocletian's Palace are stalls displaying jewelry and crafts of local artisans. Although touristy, it's a good place to pick up that special souvenir that could only come from Split.
For up-to-date clothes, shoes and accessories the streets within Diocletian's Palace house innumerable boutiques from international luxury brands to local designers. Split's women are acutely fashion-conscious as the most cursory stroll through town can attest.
Further Resources

Split apartments
Split B&Bs
Split guesthouses
Split Villas
Get Croatia Traveller's
Dalmatia: Split to Dubrovnik 2017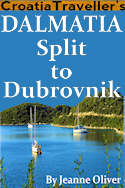 Related Pages
Split Travel Planner
Split Sights
Split Beaches
Questions? Comments?
©CroatiaTraveller 2005-2017 All rights reserved