Need to know what to see in Split?  Sightseeing in Split starts with the awesome Diocletian's Palace, and its marble streets scattered with Roman ruins. And, you can wander the palace any time of the day or night. Most of Split's museums and galleries are closed on Sunday.
Split Museums
Concerned about flight chaos?
Travel insurance brings peace of mind
.
Find out more
Within the palace is Split's Town Museum that recounts the history of Split in a series of drawings, coats of arms, weapons, furniture, coins and documents. It's a wonderful way to place your visit to Split in historical context. Open daily.
Another excellent attraction is Split's Archaeological Museum which contains fascinating artifacts from the Roman and early Christian period. Most interesting are the reliefs based on Illyrian mythical figures. Founded in 1820, it's the oldest museum in Croatia with most of its monuments originating from Central Dalmatia, particularly Salona. The collection includes Greek pottery, Roman glass and an extensive collection of ancient coins. Closed Sunday.
 Also interesting for archaeology buffs is the Museum of Croatian Archaeological Monuments in which medieval Croatian rulers hold pride of place. There are writings dating back to the days of Croatian rulers between the 9th and 12th centuries. The stone fragments, medieval tombstones, and coins can be somewhat indecipherable except for real archaeological buffs however. Stick with the Archaeological Museum. Entrance is free. Closed Sunday.
Within the palace, next to the Vestibul, is this collection of costumes, crafts, tools, ornaments, weapons and musical instruments which give an idea of daily life throughout Split's history. Closed Sunday.
Split Art Galleries
Art lovers won't want to miss Split's Mestrovic Gallery. Ivan Mestrovic was Croatia's most renowned modern sculptor and his works are beautifully displayed in this museum which was once his residence. Nearby is Kastelet, a fortress that Mestrovic designed to hold his Life of Christ cycle of wood reliefs. Afterwards, get some fresh air with a walk up Marjan Hill for the views. Another, more easily accessible sculpture by Mestrovic is the statue of Grgur Ninski outside the north wall of Diocletian's Palace. Closed Monday.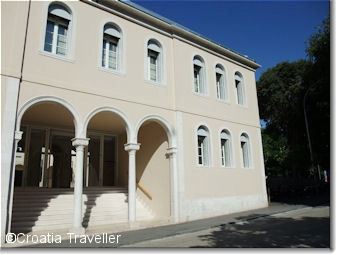 Recently installed in a glamorous new home, actually a former hospital, the Gallery of Fine Arts has an extensive collection of Croatian artists from Old Masters to contemporary artists. There's also a pleasant outdoor cafe with a view of Diocletian's Palace walls. Closed Monday.