BOOK ONLINE
The Bari-Dubrovnik ferry was once the main link between Italy and southern Dalmatia but the rise in low-cost airlines has diminished the usefulness and hence the frequency of this line. At one time, Croatia's national ferry line, Jadrolinija, ran this route all winter. The ferry runs only from 15 April to 28 November. The trip takes from 7 1/2 to 9 hours.
Booking the Bari-Dubrovnik Ferry
The Bari to Dubrovnik ferry is a car ferry and the service is handled by Jadrolinija, Croatia's national ferry company. As with any international car ferry, I strongly recommend that you book it in advance.
Click here for schedules and online booking.
In order to book the car ferry, follow these easy steps:
1. Select your departure port (Bari or Dubrovnik)
2. Select your arrival port (Dubrovnik or Bari)
3. Select the month and dates of your departure; Note that there is a 20% reduction on the return portion of a round-trip ticket
4. Select your desired accommodation; Note that some accommodation may not be available on some departures.
5. Choose your vehicle make, model and, if applicable, the plate number. If you do not know the plate number (i.e. for a rental car) simply enter "rental" in the space provided; you can notify the company later when you know the number
6. Follow instructions for paying by credit card and await your email confirmation and ticket which will be emailed to you.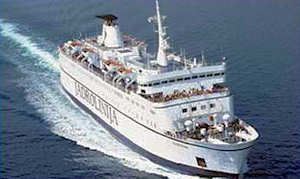 Length: 122.06 m
Width: 18.82 m
Passenger Capacity: 1300
Vehicle Capacity: 300 cars
Cabins: 148
Facilities: restaurant, self-service restaurant, pastry shop, bar - cafe, video hall, movie theater, chapel, children area, duty-free shopping
At the Bari Ferry Port
Arrive two hours before embarkment. Bring your passport or other identifying document (see Croatia border formalities) and proceed directly to the Jadrolinija stall of the main ferry terminal. You will receive your boarding documents and information about the location and boarding time of your ferry. You will then be directed to pass through passport control.
Map with Bari-Dubrovnik Ferry Route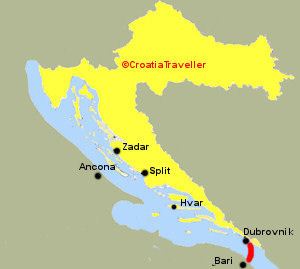 Click for a map of all Croatia ferries
10 New Things in Croatia for 2019

From new flights, ferries and hotels to better crowd control in Croatia's most popular destinations, here's what you need to know in 2019. More.

New! 2018 Croatia Ferry Schedules!

Here we are at the beginning of a new year and with a new set of ferry schedules governing trips from the coast to Croatia's best islands. As usual, Jadrolinija, Croatia's state ferry line, is first off the mark with a complete package of car ferry schedules. Only Jadrolinija handles car ferries and the company's schedules change little from year to year. Passenger ferry schedules are much more fluid as Jadrolinija and other companies adjust to the seasonal flux of visitors. Many of the passenger ferries are summer only and most do not see their schedules finalized until the spring.

…

Continue reading →

More.

New Ferry From Split to the Islands

Day trips from Split to Croatia's most beautiful islands are now easier than ever. A brand new passenger ferry service is scheduled to start in mid-June and run until mid-September. More.

It's Back! Island-Hopping Ferry Officially Returns

Krilo company just confirmed that the popular Split-Milna-Hvar-Korcula-Hvar-Mljet passenger ferry will start on More.

Subscribe to Croatia Ferry News
Last updated January 23, 2019
Recommended Tours
More from Croatia Traveller
©CroatiaTraveller 2005-2019 All rights reserved