Car Rental in Dubrovnik
Do you need to rent a car in Dubrovnik? Only if you plan on doing day trips. The city is doing everything it can to discourage car transport within city limits, including allowing parking prices to skyrocket. I recommend that you use local buses.
If you do plan to visit Montenegro or Bosnia, beware of the "cross-border card" scam. More.
Still in need of a car? Renting in Dubrovnik is easy as many rental agencies have offices at the airport and near the old town. I recommend: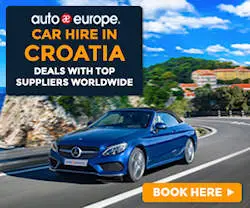 Autoeurope which has a best rate guarantee. It's hard to beat that! Plus, it's easy to choose if you want manual or automatic transmission.
Rentalcars.com compares car rentals at dozens of local and international companies.
Otherwise, try the following agencies:
Avis.com
--pick-up at the airport or in town plus you can return the car in Italy or another country.
Economy Car Rentals--pick-up at the airport or in town.
Rentalcars.com 
Works with a variety of local providers to get the best deals.    
The Old Town (Stari Grad) is pedestrian only but you can park at Pile Gate, Ploce Gate, north of the city walls or at Gruz harbour. See more.