Getting around Dubrovnik by bus is a breeze and is in fact the best way to experience the town. Traffic around the Old Town can be a nightmare while parking is expensive and difficult. All the neighborhoods are linked by buses that run anywhere from every 10 minutes to every half hour. (See a map of Dubrovnik's bus network).
They begin running at about 5am and pick up their last passengers around midnight. The fare is €1.99 if you buy from the driver (exact change only) but only €1.73 if you buy from a kiosk (tisak). A "day card" with unlimited rides is €5.31.
Tickets are also available from the reception desks of most hotels, at travel agencies, at the bus station and at the stall at Pile Gate. When you board the bus, make sure you validate the ticket by inserting it into a validating machine or you'll be liable for a fine. For more detailed information about timetables see, the website of Libertas Dubrovnik, the local company that manages the routes.
As of late 2018 Dubrovnik local buses are equipped with free WiFi for locals and visitors. Just select the Wi-Fi network "LIBERTAS MEDIAKING" and follow the instructions
Useful Buses for Visitors to Dubrovnik
From the bus station, take buses:
1a,3, 6 or 9 to Pile Gate;
1a, 3 or 7b to Gruz harbor;
5, 6 or 7b to Lapad and Babin Kuk
From Pile Gate, take buses:
1a or 3 to Gruz;
4 or 6 to Lapad
6 to Babin Kuk
From the airport, Atlas buses meet all flights for the half-hour ride to Pile Gate, Gruz and the bus station. Buses for the airport leave from the same places 1& 1/2 hours before the flight. The cost is €6.
It's all in Croatia Traveller's Dalmatia: Split to Dubovnik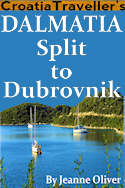 Libertas--Dubrovnik's Bus Company
Related Pages
Getting Around Dubrovnik
Buses to Dubrovnik
Buses from Dubrovnik
Dubrovnik Bus Map

Dubrovnik Accommodation
Dubrovnik Travel Guide