Parking in Dubrovnik is expensive and there aren't enough spaces to meet the demand in high season. Dubrovnik was built for pedestrians; medieval knights did not get around Dubrovnik by car and neither should you. But sometimes it's unavoidable! And if you have a vehicle, you'll need to park it, which is where the trouble starts. First, take a look at this parking map (small blue "p" indicates parking):
Parking Map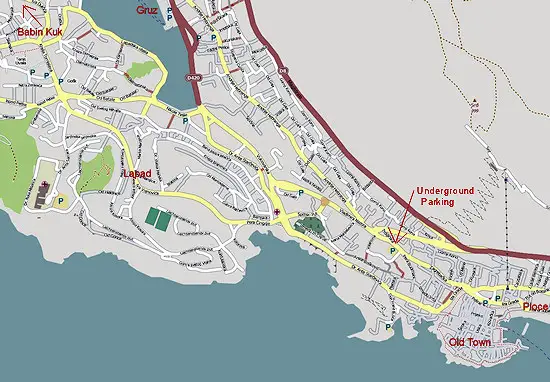 Notice that there is no parking garage in Ploce. If you stay in one of the Ploce hotels, you'll need to use hotel parking or compete for one of the few spaces in the street. Obviously there is no parking in the pedestrian streets of the Old Town but there is parking outside the northern city walls. Space is limited however.
The largest parking area near the Old Town is the underground parking garage on Zagrebacka with a capacity of 700 vehicles. From there, it's only a 10-minute walk to the Old Town.
There is ample parking in Gruz, which is convenient if you'll be taking a boat or ferry. There are also frequent buses between Gruz and the Old Town. Lapad has street parking as well as the parking garages indicated.
Babin Kuk, north of Lapad, has several parking areas but it is usually not a problem to park there.
Parking Prices
Parking prices in Dubrovnik are seasonal with prices shooting up in summer.
Street parking is priced according to zone. The most expensive is the few spaces around Pile Gate which costs €10 per hour from May to October. Zone 1/2/3 are about half-price. Prices are much less off-season.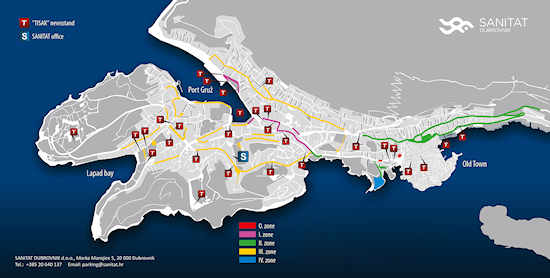 For all street parking rates, see Sanitat Dubrovnik.
The parking lot in Gruž harbour costs €1.30/14 an hour/day.
The parking lot in Zagrebacka, north of the city walls costs anywhere from €2 to €6 per hour and €23 to €63 per day depending on the season.
How to Pay for Parking
You can insert coins into parking meters but it must be exact change. The parking coupon goes on your dashboard. You can also buy parking coupons at a tisak (newsstand). You can also send a text message with your mobile phone and you will be billed directly. Instructions are on the parking sign but the limit is one hour. Failing to pay for parking results in a ticket for the full day which can reach €200 (yes, you read that right) , depending on the zone.
Further Resources
Get Croatia Traveller's Dalmatia: Split to Dubovnik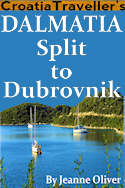 Accommodation
Related Pages
Getting Around Dubrovnik
Public Transport
Dubrovnik Guide
Last updated: December 13, 2022