In addition to the forts incorporated within Dubrovnik's walls, a visit to the freestanding Fort Lovrijenac (pronounced loh vri yen ats) or Fort Lawrence is a vivid reminder that medieval Dubrovnik was seriously concerned about threats from the west both by land and sea. There would be no mistaking this massive block of stones perched 37m over western Dubrovnik as anything other than a fort.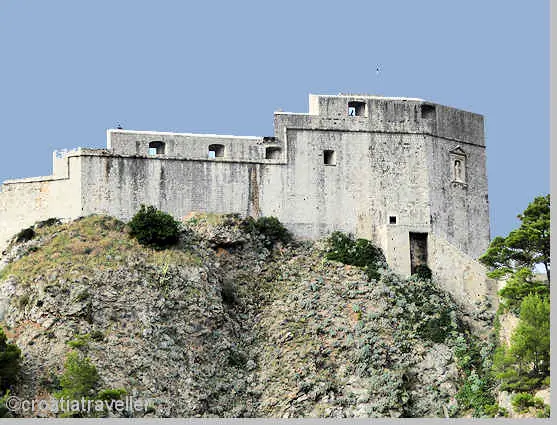 From at least as early as the 11th century, this fortress protected the city although it was rebuilt and repaired several times over the centuries. At one time, there were 10 cannons menacing potential invaders. Notice that the western side is nearly 12 meters thick but the side facing the town is no thicker than 60 centimeters. Paranoia in medieval Ragusa ran deep.
Lest the fortress commander get any swollen ideas of his own power, he was placed in the thinnest portion of the fortress where he could be easily overrun! Also, he was replaced every month.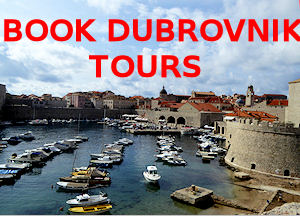 The fortress was named after St Lawrence, a much-revered saint at the time of the Dubrovnik Republic, and there was once a church dedicated to him within its walls. Unfortunately a great deal of the interior was destroyed in Dubrovnik's earthquake of 1667. Restoration began immediately and lasted until the end of the century.
Notice the inscription over the entrance: Non Bene Pro Toto Libertas Venditur Auro or "Freedom is not sold for all the gold in the world".
But Fort Lovrijenac has a price as it was used as a filming location for many scenes in Game of Thrones.
Each year the fort is the site of a popular production of "Hamlet" during the Dubrovnik Summer Festival.
Even outside festival season the fort is well worth a visit for its evocative atmosphere and the incomparable views over Dubrovnik's western walls.
Practical Information
As Lovrijenac is considered part of Dubrovnik's defensive system, a visit is included in the price of Dubrovnik's walls (€35/15 adult/child) and the opening hours are the same. You must climb about 200 steps to the top.