When the Game of Thrones crew chose Dubrovnik as a location for the popular HBO series in 2011 there was general rejoicing in King's Landing, I mean, Dubrovnik. Looking for an intact, walled medieval town to evoke King's Landing they could hardly have done better. "To find a full-on, immaculately preserved medieval walled city that actually looks uncannily like King's Landing where the bulk of our show is set, that was in and of itself such an amazing find," said Co-Executive Producer D.B. Weiss in an interview.
Pleased as the Dubrovnik folks were to welcome the cast and crew, filming didn't quite take over the entire town but was mostly confined to about a dozen locations. A fun thing to do in Dubrovnik is to take a Game of Thrones walking tour with a local guide to visit the highlights and revisit scenes from this exciting story. Viator offers reasonably-priced 4-hour group tours. Check the schedule and book. For a more personalized and in-depth experience, I recommend a private tour with experienced local guide, Ante Batarelo.
But you'd like to do it yourself? Check out this map and the following descriptions.
Dubrovnik's Walls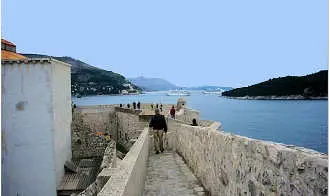 Dubrovnik's walls are a pleasure to stroll but in the season 2 episode 19 they were a war zone as the forces of Stannis Baratheon assaulted King's Landing which was ably defended by Tyrion Lannister.
Svetog Dominika (Saint Dominic) Street


Just outside the Dominican monastery, the street is regularly used for scenes throughout season 2 and 3 as well as Cersei's infamous "walk of shame" in season 5 where the crowd hurled insults from these steps:
Rector's Palace


As the former palace of Dubrovnik's governing body, the Rector's Palace sets a nice, stately tone as the atrium of the Spice King of Qarth in Season 2 Episode 6. The bust of Miho Pracat can be clearly seen in this episode.
Sponza Palace


The Renaissance arcades and colonnades inside the Sponza Palace provides a perfect setting for the machinations of the Spice King of Qarth in Season 2.

Fort Lovrijenac


The first episode of the second season depicting the celebration of King Joffrey's name day was filmed here as well as my favorite exchange between Cersei and Littlefinger where the latter says that "Knowledge is power" and Cersei responds by having Littlefinger seized by guards. "Power is power", she retorts before having him released. This forbidding fortress is often glimpsed as a backdrop to scenes filmed in Fort Bokar.

Bokar Fort


Bokar fort in the bottom left was where Tyrion and Lord Varys planned the defense of King's Landing in Season 2 with Fort Lovrijenac in the background.


Minceta Fort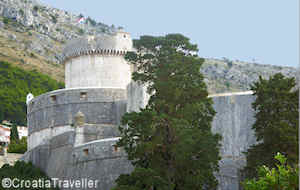 The distinctive circular tower appears in a number of scenes and it served as the "House of the Undying" in Season 2.


Benedictine Monastery on Lokrum Island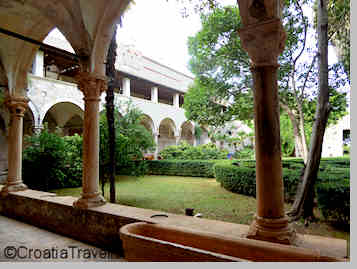 Lokrum is just a short hop by boat from Dubrovnik. The Benedictine monastery on the island had been more or less deserted before it became the palace of Qarth in Season 2. Now it's an unmissable destination for fans because of the Game of Thrones museum. The highlight of the museum is the original Iron Throne which the series' creators generously donated to Dubrovnik.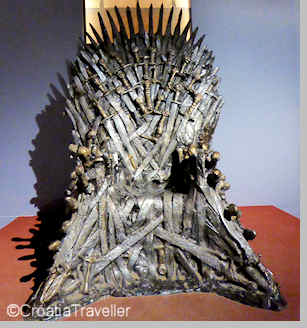 Further Resources
Did you like this page?
Get Croatia Traveller's Dalmatia: Split to Dubovnik 2018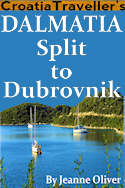 Related Pages
Dubrovnik
Travel Planner
Dubrovnik Tours & Excursions
Dubrovnik
Sights
One Day in Dubrovnik
Dubrovnik History
Recommended Tours
More from Croatia Traveller
Questions? Comments?
©CroatiaTraveller 2005-2018 All rights reserved