History
When Dubrovnik was the glorious Ragusa, it was governed by a Rector who, naturally enough deserved the best palace the rich republic could buy. Yet, in its earliest form, the Rector's Palace looked more like a fort than a palace. That 12th-century fortress-residence went up in smoke in 1435 when gunpowder in the ground-floor Arsenal exploded.
Construction of the new building began almost immediately. Onofrio de la Cava, the builder of the city waterworks was entrusted with the task and he came up with a Venetian-Gothic building. Once again, the building was damaged by an explosion in 1463. When would Ragusans finally understand that it might be better not to store gunpowder so near the seat of government?
Architecture
The builder working on the city walls, Michelozzo Michelozzi, was hired to repair and redo the building. He was a fan of the Renaissance and decided to introduce this new style to the building but only in patches. The ground-floor portico was re-built in Renaissance form but with some Gothic elements (three of the seven capitals are Gothic). The windows of the ground and first floors remained pure Gothic as was the main Gothic portal but Renaissance capitals were added to it. The styles blended remarkably well and the overall effect is most harmonious.
The main atrium of the Rector's Palace is also a mixture of Gothic and Renaissance elements. On three sides of the ground floor of the atrium are colonnades with vaults that extend to all four sides on the first floor. The baroque style is also represented in the staircase balustrade, a door port on the chapel and a door on the upper gallery.
In the atrium is a bust of Miho Pracat, a wealthy merchant who left a considerable amount of his fortune to the Republic of Ragusa. This is the only monument that the Republic ever erected to one of its citizens.
Cultural and Historical Museum
In addition to the architecture, the Rector's Palace is notable for a fine museum. The Rector was forbidden to bring his family to live with him in the palace but you'll see a number of rooms decorated in period style anyway. You'll see 18th-century furniture, portraits of Ragusan nobility, mannequins decked out in Ragusan style and several period paintings. A visit to the Rector's Palace steeps you in the history and style of the Republic of Ragusa.
Practical Information
Obviously, the exterior architectural details can be appreciated without an entrance fee. It's even possible to appreciate the structure and highlights of the atrium before paying entrance to the museum.
Opening Hours
The palace and museum are open daily 9am to 6pm (4pm in winter).
Entrance Fee
The price is €17/6.50 adults/children including admission to the Maritime Museum, Ethnographic Museum, Revelin Fort, Natural History Museum, Contemporary Art Museum and the Home of Martin Držić. Tickets for the Palace alone are €10.50.
Further Resources
Get Croatia Traveller's Dalmatia: Split to Dubovnik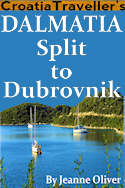 Related Pages
Dubrovnik History
Dubrovnik
Sights
One Day in Dubrovnik
The Franciscan Monastery
Dubrovnik's Walls
Dubrovnik Travel Guide
Further Resources
Last updated December 12, 2022