A visit to the Franciscan Monastery is an obligatory stop on your tour of Dubrovnik's sights. Don't miss it!
Monastery Facade
Construction of the monastery began in 1317 in a transitional Romanesque-Gothic style. Alas. That old church was destroyed in Dubrovnik's devastating earthquake of 1667. (Read more about Dubrovnik's history).All that remains of that structure is late-Gothic south portal with its striking Pietà, sculpted by the local masters Petar and Leonard Andrijic. It was badly damaged during the bombing of Dubrovnik in 1991 but lovingly restored.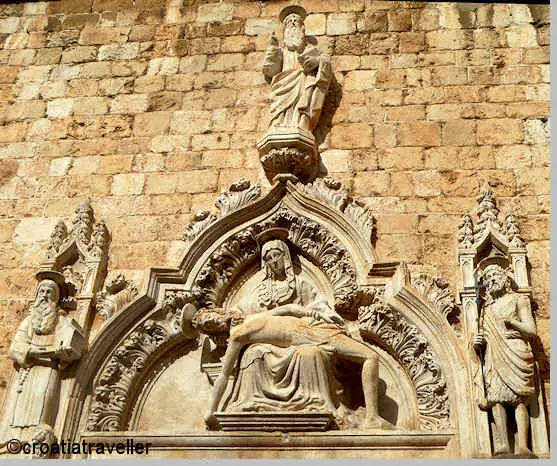 The original Gothic-top of the bell tower was also lost during the earthquake and replaced with an octagonal cupola (height 44m).
Monastery Interior
Inside the church, the altars and altarpieces date from the Baroque era. The pulpit dates from the 15th century and the main altar dates from 1713. Also remaining from the pre-earthquake period is the 15th-century chapel in the shape of a three-winged cupboard with painted wood. Dubrovnik's marvellous poet, Ivan Gundulic, is also buried in the church.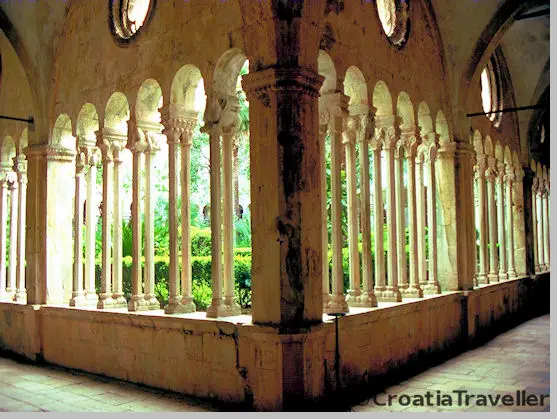 Perhaps the finest feature of the monastery complex is the cloister. Considered one of the finest structures in Dalmatia, it dates from the mid-14th century and is an oasis of leafy tranquility in the heart of Dubrovnik. The cloister's colonnade is composed of pairs of elegant, eight-sided columns and each capital on these columns is different, portraying human heads, animals, grotesques, floral motifs etc. The local sculptor Mihoje Brajkov executed this masterpiece and his tombstone is in the south part of the cloister. Supposedly, the second capital straight ahead of you as you enter shows Brajkov himself. Notice the swollen cheek. He was suffering from a toothache at the time!
The other highlight of the monastery complex is the pharmacy which has been dispensing medicine continuously since 1317. It is the third oldest pharmacy in Europe and the first that was open to the general public. In addition to getting your prescriptions filled, you can sample a selection of creams made from local products according to traditional recipes.
The monastery also contains a small museum noted for a small painting of St Blaise on wood and a copy of a painting showing Dubrovnik before the 1667 earthquake.
Practical Information
Opening hours are daily from 9am to 6m April to October and from 9am to 5pm November to March. Admission is adults/children €4/2.