Sipan Island(pronounced shee-pan) is the largest of the Elaphiti Islands at 16.5 sq km. The main port is Sudurad (pronounced soodg-er-adg) which is connected by road to Sipanska luka, a larger town about 5km away. In between is a verdant valley composed of olive and fig trees, vineyards and citrus groves. Sipan is famous for its wine and for its delightfully laid-back ambiance.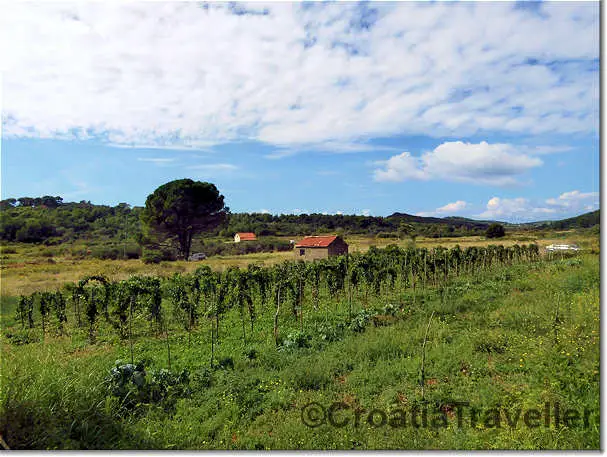 Map

View Croatia in a larger map
Sipan is one of Dubrovnik's most popular day trips with frequent car and passenger ferries all year (see below). The island is small enough to be appreciated without a car. Bikes are easy to rent from either Sipanska or Sudurad (check the hotels or the tourist office) and one-way rentals are possible.
Sipan Island is historically interesting. During the 15th century it was a chic summer getaway for the very best Dubrovnik families, many of whom built palaces on the island. On the road between Sudurad and Sipanska luka, you can't miss the late-Gothic Rector's Palace and ruins of archbishop's palaces.
Suđurađ is a sleepy village stretched along the harbour, dominated by the 16th-century castle of the wealthy Stijepović-Skočibuha family from Dubrovnik. Tomo Skocibuha was a seafaring merchant who amassed an impressive fortune during Dubrovnik's golden years, enough to buy him a lifestyle equal to the nobility. In addition to his house in Dubrovnik, he constructed this little pied-a terre in 1539. Next to it is a tall tower built in 1577 as a defence against pirates.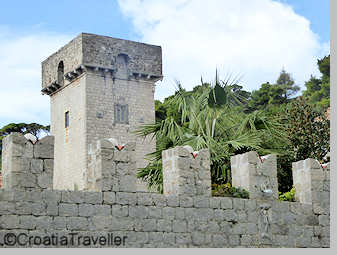 Skočibuha Palace
Sipanska luka is very much an active fishing village. Fishermen haul in the daily catch each morning, much to the delight of the local cat population!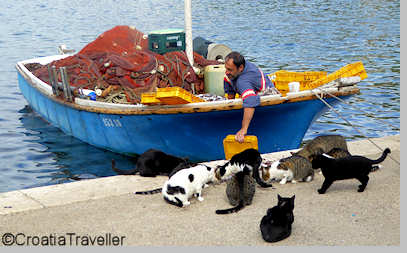 The most important historical sights are the fortified church of the Holy Spirit dating from 1577 and the parish church which contains several 15th-century paintings.
Sipan's beaches are less exalted than on Lopud but you'll have no trouble finding a pleasant place to leap into the clear sea. In Sudurad, a small gravel town beach adjoins the wharf and there are a few other beaches walking northeast along the bay. In Sipanska luka, walk northwest along the harbour and a path takes you to a sheltered gravel beach.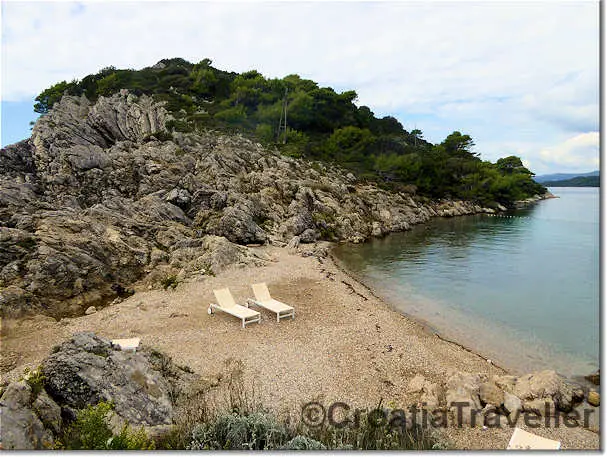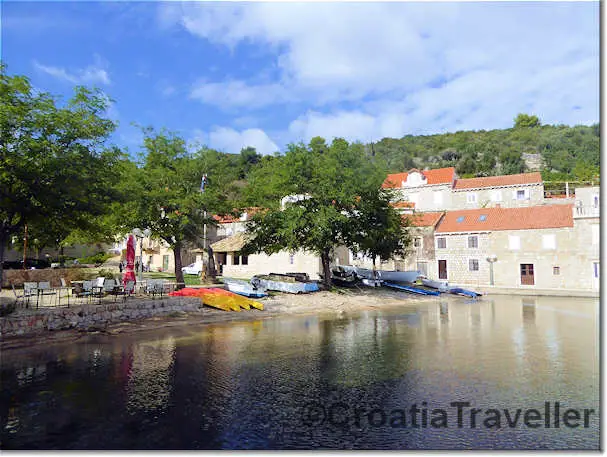 Sudurad town beach
Dining
Dining is simple in Sudurad. A few taverns are in and around the wharf serving up coffee, cake, ice cream and simple meals. For a special dining experience take a walk to the delightful Best of What's Around (BOWA) (tel 091 636 6111, www.bowa-dubrovnik.com) on Vrbova bay past the hotel Bozica. The path is signposted from Sudurad but be prepared for rugged ups and downs. What makes it worthwhile is the konoba right on the water next to a tiny beach. The fish and seafood are the freshest you'll ever eat.
As it's a larger town, you'll find more restaurants in Sipanska luka. Konoba Kod Marka (tel 020- 758 007) with a patio on the waterfront is a popular choice.
accommodation on Sipan
There are only two hotels on the entire island but they are both comfortable and recently renovated. Check out:
Hotel Sipan (3 stars; Sipanska Luka)
Hotel Bozica (4 stars; Sudurad)
Consider staying in private accommodation where there are some wonderful deals. There is a great deal more available in Sudurad than Sipanska luka. Here are some recommendations for private accommodation in Sudurad:
Apartments Pavlovic
Apartments Mali Skoj
Tri Sestre Rooms
Getting to Sipan
The larger dock is in Sudurad where a bus meets the daily car ferries from Dubrovnik. (See the schedule for the year-round car ferry and passenger ferry.) Sipanska luka also receives passenger ferries connecting it with Dubrovnik and Mljet year-round. See the schedule. In either case, the trip is about an hour.
Another great option is to take a tour of the Elaphiti Islands, stopping at Lopud and Kolocep as well. Departures are available from Split, Trogir, Korcula and Dubrovnik. Book now!
Tourist Information
The tourist office (tel 020 758 084; [email protected]) is on the harbour in Sipanska. The office is closed afternoons and Tuesday.