A visit to the Elafiti (or Elaphiti) islands could be the high point of your visit to Dubrovnik. The terrain is forested and hilly and the little villages retain the relaxed slowness of traditional Adriatic life. There are 13 islands in this archipelago northwest of Dubrovnik but only three Elaphiti islands are inhabited:
Kolocep Island
Kolocep (pronounced Kolo-chep) is the closest to Dubrovnik. It's tranquil and forested but beachless. More.
Lopud Island
Lopud is popular for its outstanding beach. More.
Sipan Island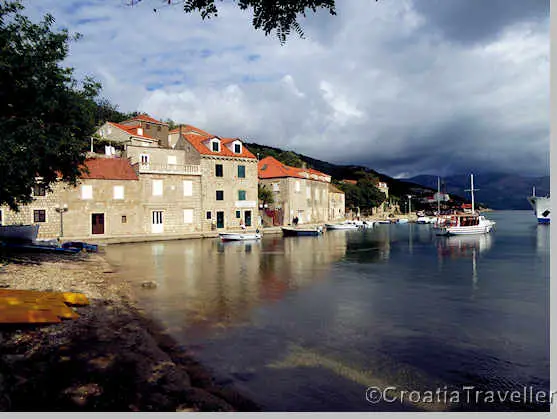 Sipan (pronounced Shee-pan) is the largest island and the only one that allows cars. Its rustic interior is perfect for a gentle bike ride. More.
Map

View Croatia in a larger map
History
The name, 'Elafiti' or 'Elaphitic islands' was introduced by Pliny the Elder in the 1st century who named the islands after the Greek word 'Elaphos' which means 'deer'. One can surmise that the islands were once heavily populated by those animals. Human populations began with the Illyrians, succeeded by the Greeks, Romans and then the Slavs who arrived in the 7th century.
Although a part of the Dubrovnik Republic since its earliest days, the larger islands once had their own rector. Elafiti are mostly covered by evergreens but there is little arable land which is why the population of the three inhabited islands turned to the sea and navigation. Their ships once formed part of the Dubrovnik navy and many residents rose to become Admirals and wealthy shipowners.
Getting to the Elaphiti Islands
Kolocep, Lopud and Sipan are well-linked by boat to Dubrovnik. There are several Jadrolinija ferries each way every day at hours that make each island a convenient day trip or alternative place to stay. See the Dubrovnik-Elaphiti passenger ferry timetable. There's also a daily car ferry from Dubrovnik to Sudurad on Sipan Island. See the schedule.
In addition, the Nona Ana fast passenger boat runs from Dubrovnik to the Elaphiti islands frequently in the summer.
Pre-booked Excursion to the Elaphiti Islands
The regular Jadrolinija schedules make it impossible to visit Kolocep, Lopud and Sipan in one day however. To see all three major Elaphiti Islands you should consider taking an Elaphiti Islands Cruise from Dubrovnik. It's a memorable way to spend the day. Book now!
Accommodation in the Elaphiti Islands
Or perhaps a day trip to the Elafiti islands isn't enough? You'd like to stay on one of the Elaphiti Islands? Each of the Big Three Islands--Kolocep, Lopud and Sipan--has at least one hotel and some private accommodation at prices that are slightly cheaper than staying in Dubrovnik.