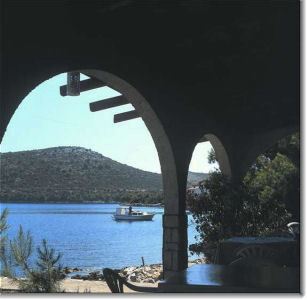 View Croatia in a larger map
The tiny paradise of Lastovo Island is nearly bereft of tourists most of the year and attracts only a light sprinkling in the summer. Why? Fortunately for the traditional way of life that still reigns in Lastovo, there are few beaches, only one hotel and, up until recently, it was a healthy five-hour ferry ride from Split. Only the devoted need apply.
But if you do brave it, you'll be rewarded with thick forests, a dramatically craggy coast and the chance to take long, solitary walks accompanied only by birds and the sound of the splashing sea. The pristine natural beauty of Lastovo Island sparked the government to name it a protected "Nature Park". The only activity on the island is agriculture, specifically viniculture. The Lastovo Maraština is a full-flavoured dry, white wine that is famous throughout Croatia.
What can you do on Lastovo? Admire the bay of Ubli when you arrive and then go on to Lastovo village where sleeping cats stretch out on the ancient stone stairs that wind up the hilly streets. The ancient stone houses are appealingly dilapidated and there's a lovely little Renaissance church. Take the stairs in front of the church and climb up the hill to the meteorological station where you can enjoy unforgettable views over the islets scattered in the nearby sea.
Lastovo Island is also famous for its Carnival. Villagers don traditional costumes, and do the traditional dances to the traditional music. And it's not just some show for tourists either.
Accommodation on Lastovo Island
There is one hotel on Lastovo Island in the village of Pasadur, near Ubli. Hotel Solitudo is a new hotel with all comforts and it's right on the beach. For private accommodation try Apartments Bruna.
You can also stay in a lighthouse! On the southern side of the island is the Struga Lighthouse which contains four apartments suitable for two to five people. More.
Getting to Lastovo
There is a regular Jadrolinija car ferry that runs from Split to Ubli on Lastovo, stopping at Vela Luka on Korcula (see the schedule) and there's also a fast catamaran in the summer that makes the trip in less than three hours. See the schedule. It's now possible for foot passengers to get to Lastovo from Dubrovnik all year (although not every day) on the Nona Ana ferry.
Lastovo Tourist Information
The Lastovo tourist office (tel 020 801 018) is at Pjevor b.b.
Recommended Tours
More from Croatia Traveller
©CroatiaTraveller 2005-2019 All rights reserved