The Split-Hvar-Vela Luka-Ubli passenger ferry runs all year. Unfortunately, because of the timing, the connection is useless for those who want to make a day trip from Split to Hvar, Korcula or Lastovo. The catamaran is designed to bring islanders in to work in Split, not tourists to the islands.
For a morning run out to the islands, check out the seasonal Split-Brac-Hvar-Korcula-Mljet-Dubrovnik catamaran. See all options to Hvar and Korcula below.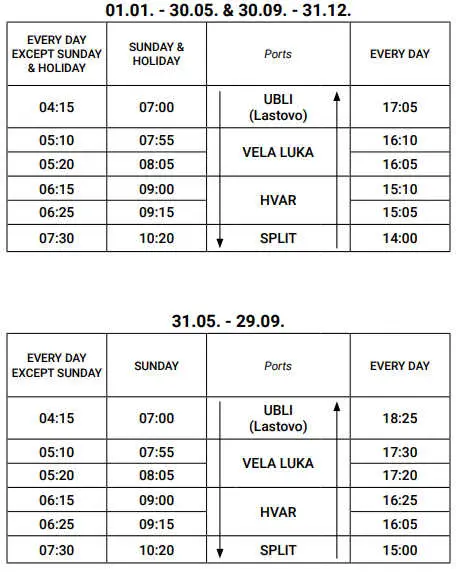 The "Adriana" may handle this route
Booking
This Split-Hvar-Vela Luka-Ubli catamaran is run by Jadrolinija. You can buy tickets online at the Jadrolinija website or at any Jadrolinija office.
10 New Things in Croatia for 2019

From new flights, ferries and hotels to better crowd control in Croatia's most popular destinations, here's what you need to know in 2019. More.

New! 2018 Croatia Ferry Schedules!

Here we are at the beginning of a new year and with a new set of ferry schedules governing trips from the coast to Croatia's best islands. As usual, Jadrolinija, Croatia's state ferry line, is first off the mark with a complete package of car ferry schedules. Only Jadrolinija handles car ferries and the company's schedules change little from year to year. Passenger ferry schedules are much more fluid as Jadrolinija and other companies adjust to the seasonal flux of visitors. Many of the passenger ferries are summer only and most do not see their schedules finalized until the spring.

…

Continue reading →

More.

New Ferry From Split to the Islands

Day trips from Split to Croatia's most beautiful islands are now easier than ever. A brand new passenger ferry service is scheduled to start in mid-June and run until mid-September. More.

It's Back! Island-Hopping Ferry Officially Returns

Krilo company just confirmed that the popular Split-Milna-Hvar-Korcula-Hvar-Mljet passenger ferry will start on More.

Subscribe to Croatia Ferry News 
Recommended Tours
More from Croatia Traveller
©CroatiaTraveller 2005-2019 All rights reserved